Pictured above is Randy, his wife and 6 of his 8 grandkids.
UPDATE AUGUST 2019
Fall is nearly here and it won't be long till Sarah Perry is a new mother and out on maternity leave. We've been working hard to prepare the business for her absence. In the middle of this preparation, we had the big Carpocalypse of 2019. On July 31 at 4 in the afternoon we had an SUV driver crash through our building. Right now I'm neck deep with insurance and repairs to the building and fixing and replacing equipment. Marlyn and Sarah have done a wonderful job with our clients and customers during this time. We continue to press on and are open for business.
---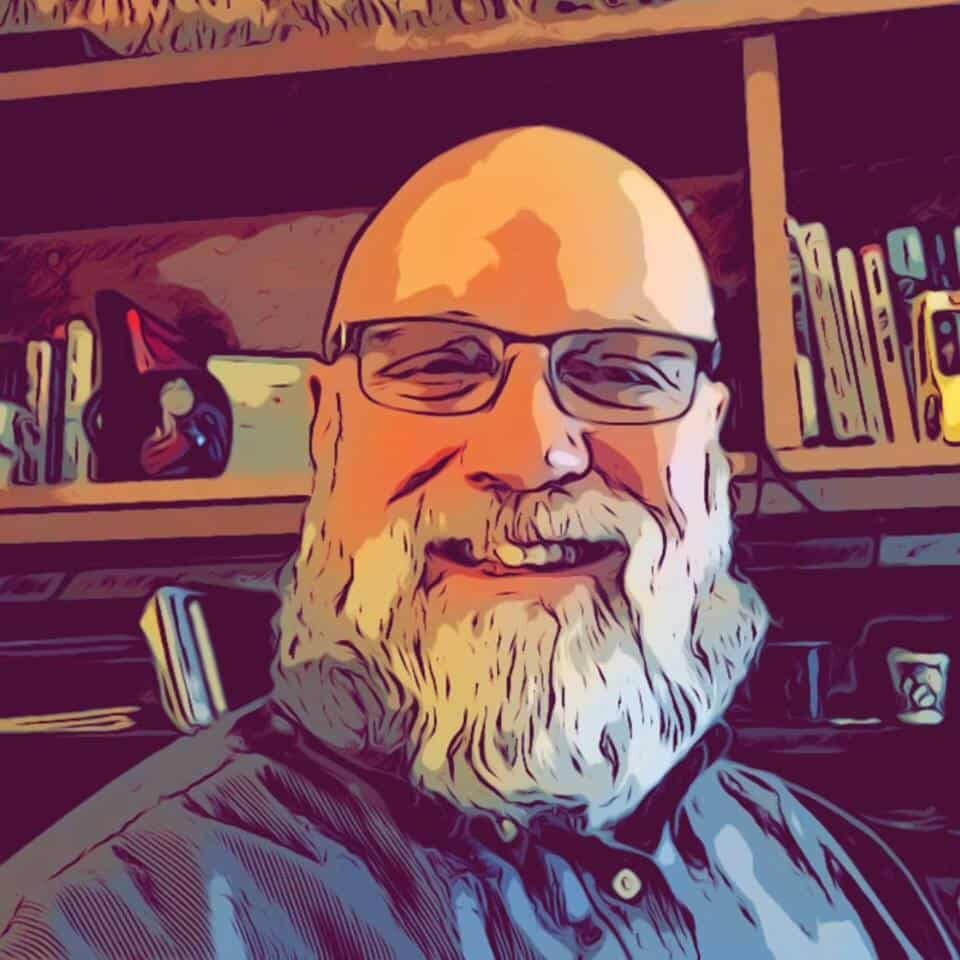 APRIL 2019
Yep, I'm still here. Sarah and her husband decided to start a family and she's expecting their first child later this year. Because of that and still not having decided what to do afterwards, I'm here for a little while longer.
---
2018 
I've owned this business since 1999, back when it was called Lightning Xpress Printing. Our industry was known as quick printers at the time. We produced printed material for small businesses like business cards, flyers, brochures, forms and marketing collateral. Most small business advertising was still done in the Yellow Pages and the internet was just beginning to be recognized as the next place to be. Today the Yellow Pages are nearly non-existent and most business advertising is done online.
We've transitioned who we are and what we do to meet the changing needs of small businesses in Colorado Springs and the surrounding communities. That meant training existing staff and hiring new staff with different skill sets.
Recently, I've come to understand a comment my grandpa made back when I was a child. I remember him saying that he was tired of learning new stuff. I didn't understand it at the time, but I think I do now.
The number and amount of changes that we've made as a business have been huge over the last few years. We find ourselves constantly reading and studying and improving so we know best how to help our clients and their businesses. We want to offer sound advice on how to market their business. They have their hands full trying to stay ahead of their competition and be current in their industry. It is our goal to help them with marketing and provide the opportunity for growth so they can take this one thing off their plate.
This year (2018) is a milestone year for me. The number of days left in the business is slowly coming to an end. And with that, my biggest job this year will be preparing my successor.
I understand that I'm getting old. Some look at me and say that I am. It's funny because my brain is not convinced that I am. But my body typically wins the argument and proves it when I try to do those things I could do when I was younger.
I remember my first calculator in high school. We were not allowed to use them till my senior year. I was a computer operator in the Air Force when I came to Colorado Springs and I worked on a Honeywell 6060 housed, along with an IBM computer, in a room bigger than my first house. I recall my first computer was a Commodore 64 and I remember sitting all day typing in the code from a magazine just to play Pong. I recall setting up an internal network at a church to replace our "sneakernet."
Just thinking about all this makes me feel old. And I start thinking about what my grandpa said. At some level I'm tired of learning new things. But I'm still learning everyday. And I believe my grandpa did to.
But the time for change is drawing near.
It's time for someone else to have a chance to take the reins, to learn and grow. I've been working with Sarah for more than a year to take the lead chair. I'm preparing her to take over the business, helping her see past the daily tasks and how to plan and move forward in the future. She is a huge asset to the business and her skills and expertise will take her and the business far.
So this year I have begun to transition out. What will I do afterwards? I'm not entirely certain. I can't retire and stay home. I don't have permission from my wife. Whatever I do, it will include more miles on my motorcycle, spending time with grandkids and family, time at the gym and lunches with friends. And growing a real beard again.
I remind the staff regularly that I have one foot out the door and they remind me that there is still work to do. So till the time comes, you can find me at my desk taking care of the day to day affairs of the business.
For the Love of the Road
I enjoy riding when I get the chance. Alone or with others, summer or winter, it's nice to go for a ride.