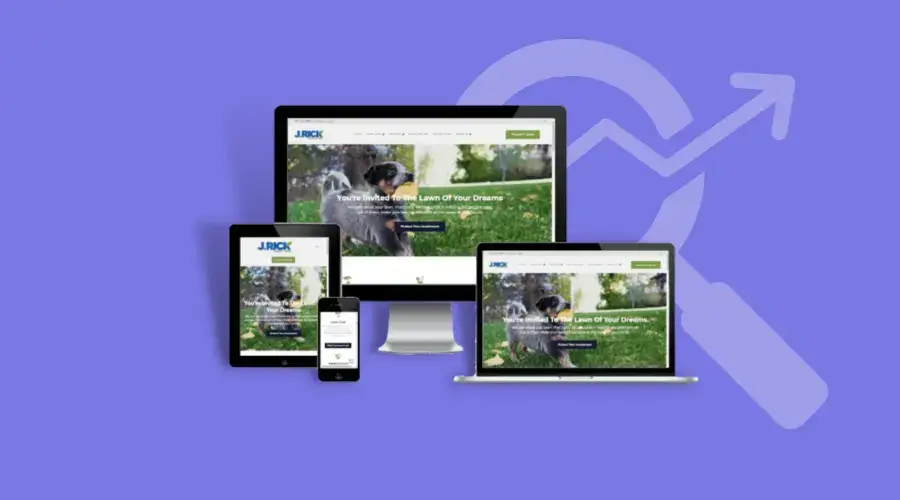 How This Lawn Care Company Increased New Sales by 32%
Posted Oct 5, 2021 | Updated 2 years ago
Project Summary

For the 2021 season, J.Rick Lawn &Tree, Inc. wanted to increase density in their target area and introduce a new, highly niche service to a brand new audience.
We crafted a multi-touch marketing strategy around each buyer persona that included website optimizations, local SEO, and mail-based campaigns.
At the end of these efforts, they saw a 32% increase in new sales for their services in that same time period.
Background
J. Rick Lawn & Tree, Inc. has been providing landscape maintenance and tree care services throughout the front range of Colorado since 2011.
We first met Jon Rick, the owner, in 2012. During the first few years, we provided various printed products along with rebuilding and optimizing his website. However, in late 2017 he approached us about developing a marketing campaign to build up his online authority and increase local sales. Due to the success of the initial campaign, we continued the campaign annually with year-over-year growth each time.
Opportunity / Challenge
Always looking for the next way to expand the successful J. Rick brand, in 2021, Jon set his eyes on reaching a new market segment with a much-needed service: Noxious Weed Control Services for open land properties.
Having worked with Third Angle for several years already, when Jon saw this new market opportunity, he reached out to us to see how we could help. Jon saw two primary reasons why he knew he needed help:
Jon needed help identifying and reaching the right property owners in the areas best suited for noxious weed control. From both a physical targeting and digital targeting perspective, our team at Third Angle would serve as Jon's strategists and "connectors" to the right property owners.
He needed a marketing team he didn't have to micro-manage. As a local marketing agency in Colorado Springs, we could keep an eye on the weather and control promotions strategically based on the changing seasons and rain weather patterns that affected noxious weed growth. Rather than Jon needing to keep a pulse on that, he entrusted us to manage the delivery windows for each mailing campaign to achieve the best results for him.
The Solution / Strategy

The stage was set and now came time for a strategic plan to be developed and then implemented. The primary purchase motivation for landowners who need Noxious Weed Control Services is two-fold; they are either proactively looking to reduce noxious weed presence on their property or they are reactively responding to a notice that the county has recorded the presence of noxious weeds on their property and action must be taken in accordance with the Municipal Code and the Colorado Noxious Weed Act.
Jon wanted to allocate a quarter of their total marketing budget towards content and promotions related to the noxious weed control services to raise awareness for and demand for the new service offering.
Digital Marketing
For starters, J. Rick's website needed to include content that would answer researchers' top-of-mind questions regarding noxious weed control since this was an entirely new service offering for J. Rick. Our team, who built and actively maintains the J. Rick website, developed the following to accommodate a new buyer persona's purchase path:
A Ranch Services web page with information regarding Noxious Weed Control.
We redesigned the website structure to have each service listed on separate pages to adhere to changes in search engine optimization best practices since the original site launch.
Updated, refreshed, and reposted existing blog content that had become outdated.
A non-invasive pop-up notice regarding noxious weed control services to inform existing customers of the new service offering.
Mailing Campaign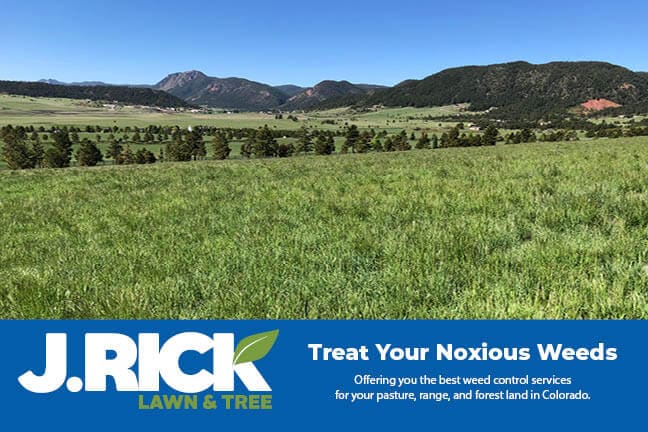 To get the most value out of any mailing campaign, we recommended that J. Rick send mailers to homeowners with at least 5 acres of land and a property value of $800,000 or more, located within 25 miles east of I-25 and 5 miles west of I-25.
Direct mail would be the perfect way to keep J. Rick top of mind in mailboxes alongside any county or city notice requiring riddance of noxious weeds on the property. While EDDM has the convenience of targeting addresses in specific zip codes, using EDDM would waste a large portion of mailers by sending to property owners that were not qualified based on property size and property value.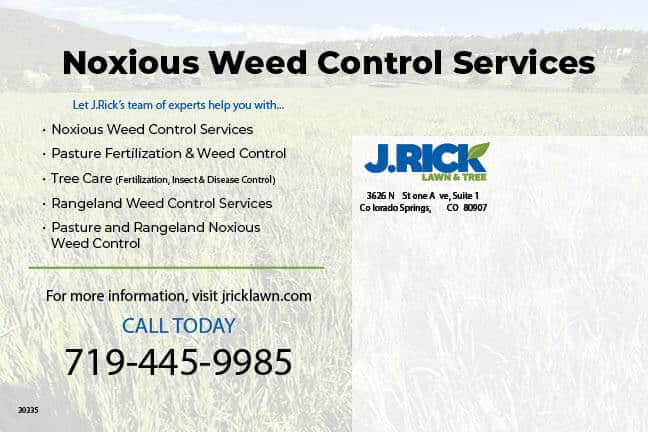 Third Angle refined and purchased a qualified direct mail list of noxious weed control candidates. Fortunately for J. Rick, it did not matter if the resident living at the property was different than the name printed for the direct mail pieces because the property is what mattered. Thus, the name of the listed resident along with "or Current Resident" would suit this campaign well to deliver maximum returns from the targeted list of addressees.
From a cadence perspective, Third Angle recommended J. Rick send a mailer once per month from April through August and we made plans to send the mailers in conjunction with heavy rains that would naturally lead to fervent growth of noxious weeds throughout the Colorado Front Range.
The design of the piece was kept simple and clean and remained the same every time it was sent to accommodate heightened brand recognition, reinforce the new noxious weed control services, and reduce context switching. The imagery was used from the property of one of J. Rick's customers to ensure the local Colorado Front Range recognition was reinforced.
The objective was for recipients to call J. Rick, so their phone number was kept prominent on the piece. Their website URL was included for those prospects who desire to do additional digital sleuthing before reaching out for a sales conversation.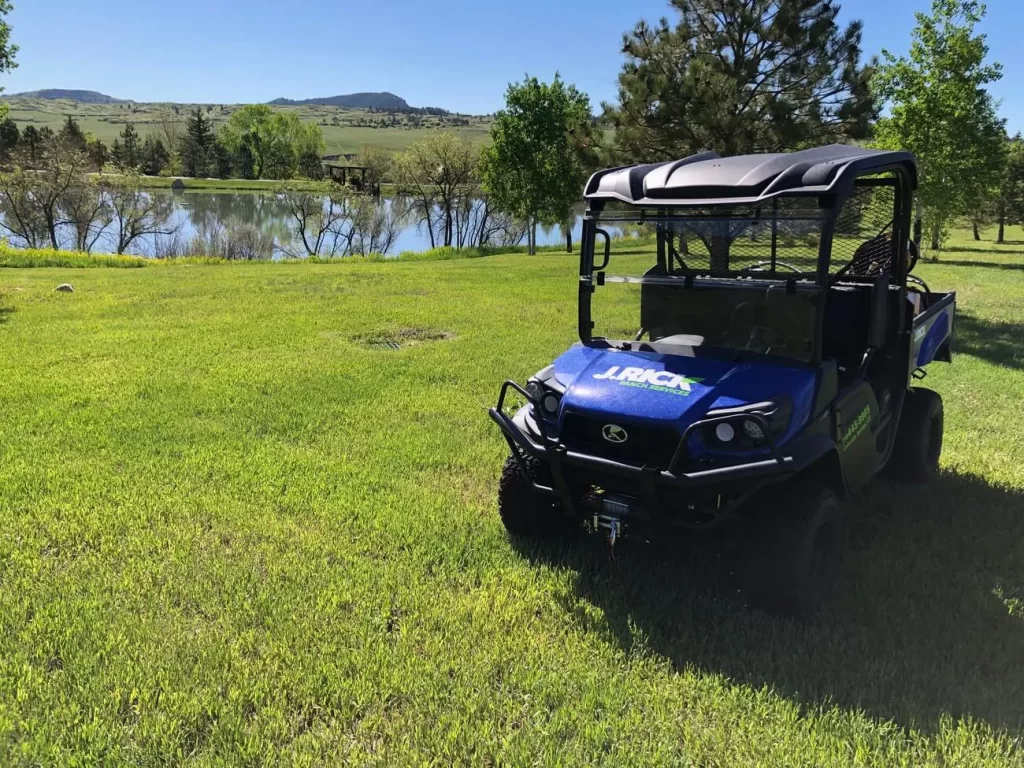 The Results
By the second month of sending these postcards and driving qualified website traffic to additional online resources, Jon noted that most of the jobs were coming from phone calls, the main call to action from the mailers. By the end of August 2021, Jon shared that they had achieved 32% more in new sales in 2021 compared to 2020 new sales.