Third Angle is Your Local Print Shop in Colorado Springs
We are here to help you find the right print solutions for your business. Offering both black-and-white and full-color printing services, we specialize in creating personalized printed brand materials that your audience will recognize and that will foster trust in your business.
Print isn't dead. It's evolving.
With the digital age in full swing it can be hard to know whether it's necessary to have printed pieces for your business and we understand that hesitation.
That's why we offer business essentials, such as business cards and branded invoices in smaller quantities to fit your budget (and storage!) needs.
And for promotional print items, like brochures, postcards and flyers, it's important to look professional. That's why we also offer in-house professional design services for all your marketing materials to keep your marketing strategy cohesive online and offline.
Our most popular business print materials are the following:
Announcements
Banners
Book Marks
Booklets
Brochures
Bumper Stickers
Business Cards
Buttons
Calendars
Catalogs
Christmas Cards
Direct Mail
Door Hangers
Envelopes
Event Tents
Event Tickets
Flyers
Foam Boards
Forms - Carbonless
Forms - Continuous
Forms - Pads
Greeting Cards
Index Tabs
Invitations
Labels
Letterheads
Magnets
Medical Forms
Menus
Note Cards
Note Pads
Pocket Folders
Pocket Folders
Postcards
Presentation Folders
Rack Cards
Rx Pads
Sell Sheets
Table Covers
Table Tents
Trading Cards
Yard Signs
Still Unsure about Print?
Download our 7 Great Reasons to Choose Print white paper to share with your team.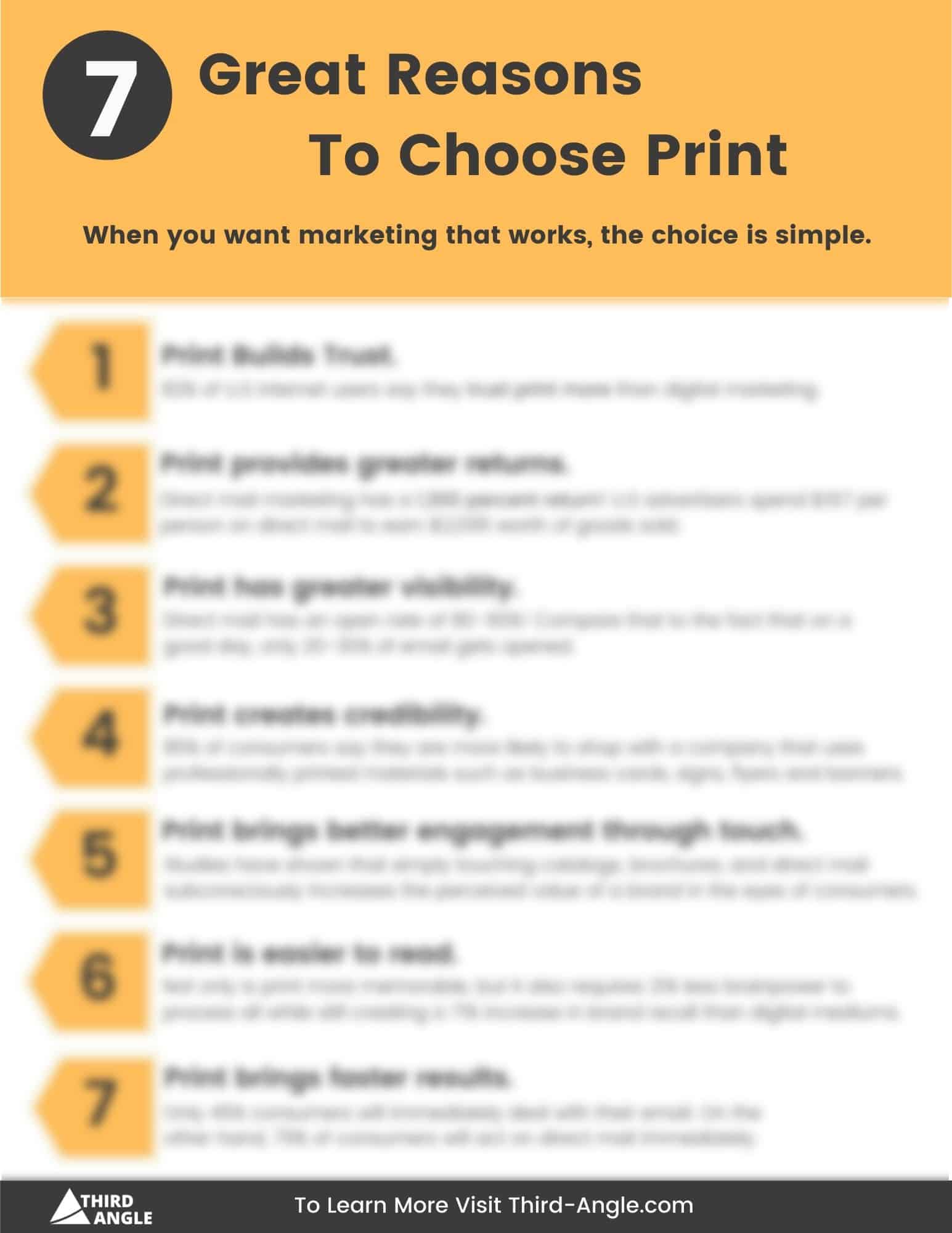 Get more for your money with local printing companies.
When you with Third Angle you work with professionals that know their stuff, aren't afraid to give suggestions, and are open & honest throughout the entire process.
Knows Their Stuff
You may be thinking, "Well, DUH!" But we think it needs said. You need a local printer that knows the ins-and-outs of the entire process and what other techniques could work better for you. Many have mastered the art of talking the talk. We prefer walking the walk.
After more than 36 years in the industry, we still do not do everything. We want to do what we do WELL.
Gives Suggestions
You're investing your heart, time, and money into this project and you want it to turn out better than you could have dreamed. A quality print shop will evaluate your project needs to find the most effective solution for YOU.
You know you've hired a Colorado Springs printer who cares about YOU when your success comes before the printer's bottom line.
Is Open & Honest
When it comes to hiring a print company for your project, look for one that is transparent about their prices, methods and process, and limitations. The best print shop in Colorado Springs is going to be the one who empowers YOU to make the decisions you're comfortable with.
A good question to ask yourself is, "Do I feel like I know more about printing after talking with this print shop?"
Business Print Marketing Blog
Get tips without gimmicks for making your company's printed materials awesome.