Effortless mailing services in Colorado Springs.
When you need to spread the word about your business physical mail campaigns are still a great budget-friendly option for small businesses. Third Angle can help you clarify your message and make sure it gets delivered  to the right people.
Design Your Mailer
You can mail nearly anything. From a postcard or envelope to a folded brown paper bag with an offer for free lunch inside.* But before we go too crazy, we'll let you know if there are any requirements from USPS.
Have something already in mind? Great! We can help refine it or just print it.
Not sure where where to start? We love designing -- and we're pretty darn good at it.
*we did this once, it was quite fun!
Pick Your Audience
Mail campaigns are typically broken up into two categories Direct Mail and EDDM (Every Door Direct Mail). The major differences between the two are simple:
Do you want to mail to a specific list? If yes, then use Direct Mail.

Do you want to mail to an area? If yes, then use EDDM.
Both have associated requirements, but don't worry, we'll help you the whole way.
Send It!
Depending on your mail campaign you may have to drop it off at multiple USPS locations. But don't worry, we've got your covered with Full Service Mailings that offer list auditing, addressing and prepping, including dropping it off ay the post office(s).
Have a business that is dictated by certain events or weather? We can hold your project til the timing is just right.
We are experiencing extended production times and paper shortages.
Due to a variety of reasons, paper and envelopes are experiencing shortages and price increases. Learn more and stay informed.
Not sure what type of mailing you need to do? Here is a basic overview of both EDDM and Direct Mail.
What is a Direct Mail Campaign?
Direct mailing is EDDM's more specified counterpart that helps businesses target a designated demographic or pre-existing list of customers to help drive and promote sales.
When an audience is targeted by demographics, like mailing to only members of a local bowling alley league, direct mailing services may be more appropriate.
What's included
We review and audit your mailing list to ensure proper setup for delivery. If desired, we can review your list for duplicates for an additional fee. We also process permit usage, USPS required forms, and deliver to the post office as part of our direct mail services in Colorado Springs.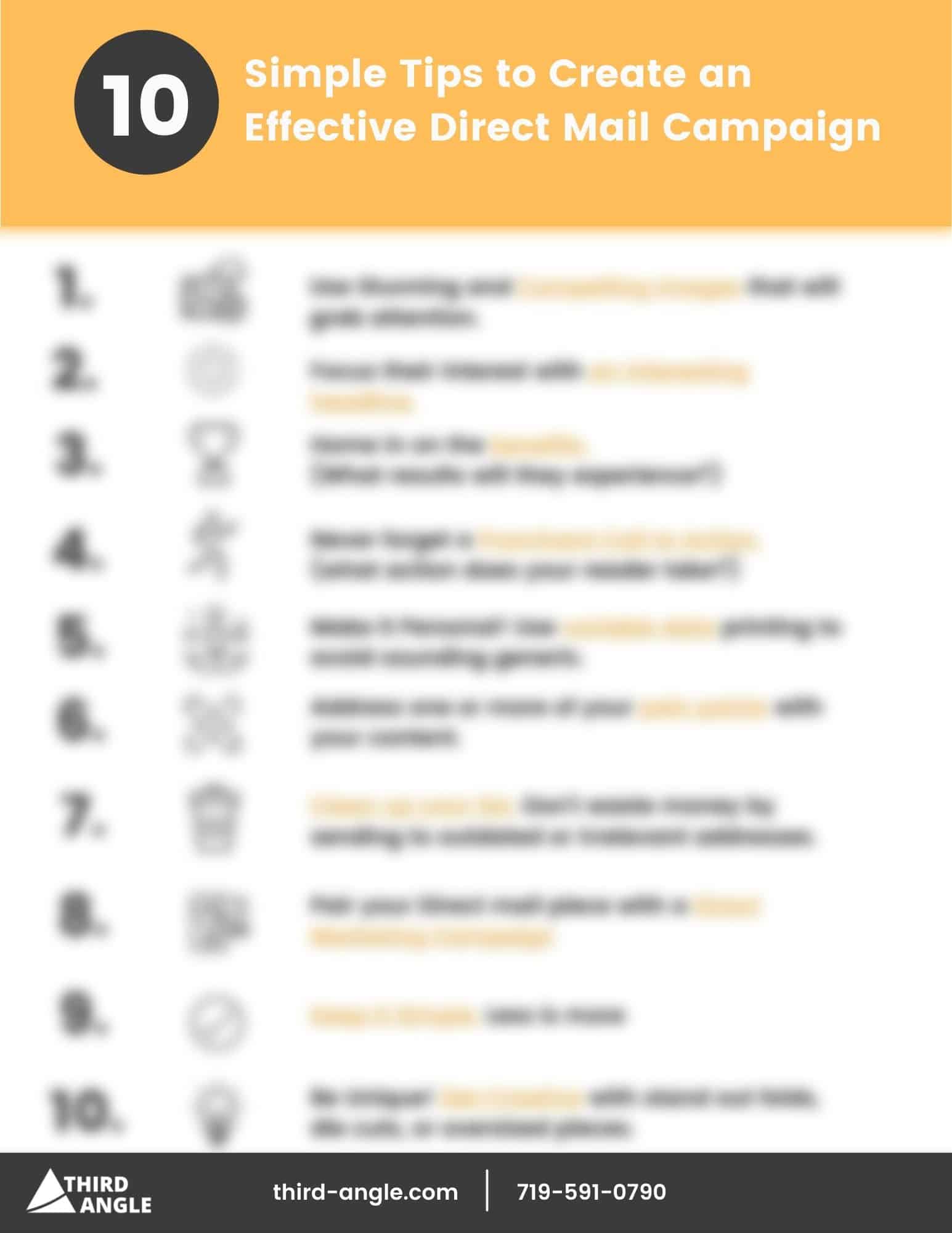 What is EDDM, Every Door Direct Mail?
Every Door Direct Mail (EDDM) allows you to send your message to to everyone in a selected mail route to ensure the materials get to your target audience. Utilize this opportunity to craft compelling materials for neighborhood specific deliveries.
This method is particularly great for newer businesses or businesses who do not have designated mailing lists.
What's Included
All EDDM mail projects start by determining which mail routes your target audience is in. If desired, we can design your mailing to proper specs. Finally, we prep and deliver to the post office as part of our bulk mailing services in Colorado Springs.
Let's talk about your mail needs...
"*" indicates required fields