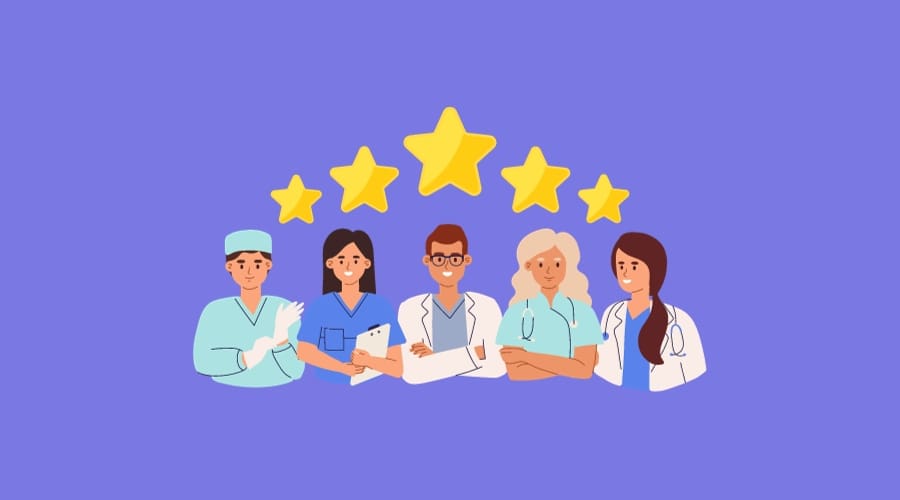 8 Ways to Quickly Improve Your Patient Experience With Providers
Posted Nov 8, 2023 | Updated 4 weeks ago
Providing a positive patient experience needs to be a top priority for health-care practice in Colorado Springs. 
You need to cultivate an experience that makes individuals feel safe, secure, and confident since they are coming into a setting often marked by vulnerability, trepidation, and other overwhelming emotions.
Primarily, this involves ensuring that your existing and prospective patients
have access to critical information to make informed decisions
receive good communication with members of your team
feel confident about when and how to show up to appointments
You also want them to feel welcome and comfortable within your practice, which fosters a healthier long-term relationship between patients and providers. 
Setting Goals for Improving Patient Experience
A positive patient experience is associated with a number of advantageous outcomes, for both patients and health-care professionals. It empowers patients to make wise decisions when it comes to the self-management of their health and well-being. It also increases patient loyalty and reduces no-show rates, while improving internal efficiency and employee satisfaction and offering financial incentives for your practice.
You can measure the performance of your patient experience goals using retention data—or how many returning patients you have over the long-term for routine care. Additionally, surveys, interviews, and focus groups are popular ways to measure the patient experience quality at your practice.
Improving the Patient Experience with Print and Digital Materials
Communication is a significant part of providing a positive patient experience. It enables both patients and providers to make smart, confident decisions that lead to better outcomes. And that's where print and digital materials can serve as a helpful solution to communicate critical information between patients and providers.
Here are eight ways to improve the patient experience within your healthcare setting with the use of printed materials and resources:
1. New Patient Packets
Anytime you intake a new patient, you want to give them the information they need to fully understand what services you offer; who on your staff they might interact with; how to schedule appointments; how to set up an online account to access billing, lab results, and other data; information about outside providers you partner with; and other pertinent information to enhance their experience. As a part of your organization's customer service, put together simple welcome packets to distribute to new patients to introduce them to your facility and team. Include the most important information in a clear, concise way that feels helpful and engaging. They can be printed to distribute in person or through the mail, or you can create digital welcome packets. If you need assistance, reach out to a local printer in Colorado Springs, such as Third Angle, to help with multi-matched mailings—or projects that involve a few individual materials that must be matched and put in the same envelope.
2. Pre-op Packets for Mailing
Often, you'll want to prep patients for upcoming procedures, surgeries, and operations. If providing them physically is not possible, then mailing patients a packet with this information a couple weeks or days before their appointment gives them time to read through the materials and prepare emotionally, mentally, and physically, as needed. Include any paperwork that they should fill out and bring with them, as well as resources for them to learn more about the procedure.
3. Admission and Discharge Paperwork
Even though patients may not see their charts or internal paperwork, it improves their experience by keeping clinicians and administrators on the same page, allowing patients to move smoothly through the flow from admission to discharge. Color-coding can be used to enhance the workflow and keep all relevant documents organized. Third Angle has services to support health-care providers by printing patient paperwork packets that are collated and stapled.
4. Posters and Signs with Health Tips
Digital and/or print signs are useful to share information and enhance the overall aesthetic of your practice. For example, if you serve older patients, you could have signs with dietary recommendations and exercise ideas tailored toward that demographic. In a pediatric setting, you could have educational posters that are colorful, interesting, and break down important messages for a younger age group. Not only does signage provide an opportunity for educating patients and spreading awareness, but it also ensures your health-care center doesn't feel sterile or uninviting.
5. Postcards for Appointment Reminders
Whether you're letting patients know that it's almost time to schedule a routine checkup or reminding them of an upcoming appointment, postcards and mailers can be a helpful solution. Physical appointment reminders also feel more personal, and they're the perfect opportunity to reinforce your brand image within your community.
People are more likely to hold onto something tangible, which increases the likelihood they will follow up to schedule an appointment with your staff or keep their current arrangements.
That also why printing business appointment reminder sized cards for your front office staff to use during patient check-out is another positive communication opportunity between your practice and the patient.
6. Signage at Your Facility
Another way to improve the patient experience within a health-care setting is the addition of wayfinding signs. They can be print or digital; the latter gives you the ability to easily update the sign if you make changes to where practitioners are located.
The goal is to help patients easily navigate your facility, whether it's a hospital or smaller practice with multiple offices. You can point them in the right direction toward a particular office, your imaging center, an in-house pharmacy, the cafeteria, restrooms, or other important locations, so they waste no time and do not struggle to get where they need to go.
You can also use in office signage to make it easy for patients to get back to the waiting area if you do not have the staff available to walk each patient out.
7. Menu Boards for Onsite Cafeterias and Cafes
If you work at a larger health-care center, you may have an onsite cafeteria or coffee stand. Not only do patients use these facilities, but they're appreciated by loved ones who are waiting for appointments and procedures to wrap up. Consider adding a digital menu board that you can conveniently and easily update—especially if your menu changes throughout the day—along with smaller printed menus that individuals can take back to a waiting room.
8. Include QR Codes on Print Materials
Finally, QR codes are easy to incorporate into a wide variety of print materials—including posters, newsletters, flyers, educational materials, and paperwork packets—and they provide several benefits. Ultimately, they allow patients to access additional information that might be too wordy or detailed to include in the print product itself.
For example, QR codes could help patients learn more about a particular medication or piece of medical equipment. Or patients could easily scan a QR code on a billing document or appointment postcard and be taken to the correct page on your website to make a payment or reschedule.
When used correctly, QR codes can provide a beneficial bridge between print materials and your digital presence and online resources. 
Cohesive Digital and Print Solutions
You need a marketing agency that offers more than just digital marketing or print marketing solutions. Because your patients are operating online and offline, you need a cohesive approach between both marketing mediums. This is why our team at Third Angle serves clients with straightforward digital, print, and mail-based marketing strategies that will create a cohesive, delightful experience for your patients.
Our marketing experts are here to help your health and wellness practice in the Colorado Springs area to get a leg up over other providers by better engaging your specific patient demographic across their entire physical and digital journey.