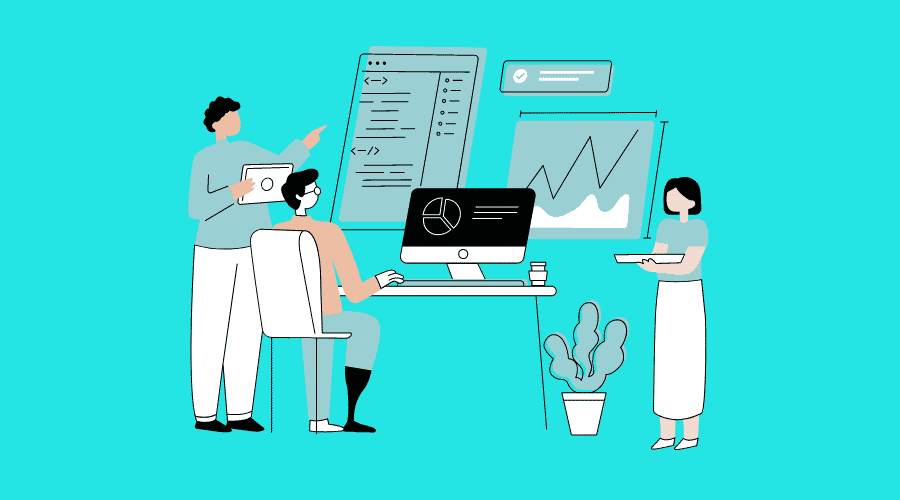 The Small Business' Guide To Colorado Springs SEO
Posted Aug 5, 2020 | Updated 3 years ago
SEO.
It's only three letters.
Yet, something so small encompasses something so outrageously big when it comes to your website.
SEO (search engine optimization) is so powerful that it can influence the effectiveness of your site and ultimately determine if potential customers see your site.
90.63% of pages get no organic search traffic from Google.

(Ahrefs)
What is organic search traffic that Ahrefs is referring to in their statistic? Organic search results are delivered by the search engines based on the relevance to the search terms entered and exclude any advertisements. The unpaid lists that appear on a search engine page after a query is the result of organic search.
SEO has certainly evolved over the past few years — and Colorado Springs SEO companies have seen significant changes, from keyword implementation to content guidelines.
While it is important to know how SEO works and the purpose of this marketing discipline, it is equally important to know the right steps for implementing it; so that after you do all of your hard work and research, you see results.
What Is SEO?
SEO is a discipline. According to Moz.com, it focuses on growing the visibility of organic search engine results.
While a primary component of SEO is to attract search engines to your site, the other component is to make your website appealing to readers.
Google is big on user experience, according to Search Engine Journal. So, even if you have all of the right keywords and your website ranks high, the moment Google sees that you lack readability or user-friendliness, you're back down to the bottom.
SEO is critical for your website because a vast majority of your traffic will come from search engines like Yahoo, Google, and Bing. While social media may send a handful of visitors your way too, most people find what they're looking for when using a search engine.
Search engines use keywords from internet users to point them in the right direction. When a user types in words into a search box, the algorithms of the search engines will then scour their database of indexed web pages to find the websites that they feel are the best match.
Without SEO, search engines cannot find your website. Also, the better your SEO, the more visitors your site will receive.
So, in conclusion, SEO, search engine optimization, is critical.
Basically, it is what ensures people find your site.
The Three Types Of SEO
There are three main components to an SEO strategy: technical, off-page, and on-page. Each of these has their own process and importance. When you employ Colorado Springs SEO companies, they will devise a plan that addresses all three components or they may specialize in just one of these.
Before you start hiring someone, it is best you understand how these three areas work, and what they do for your site's visibility.
1. Technical SEO
Technical SEO is the background SEO. It is not what visitors see, but it is something that search engines will see very clearly.
Technical SEO focuses on tweaks that give your content the best chance to rank for relevant keywords, according to Nicole Rende at HubSpot. You use the technical side to focus on how well search engines are crawling your website and accessing your content.
When a search engine can easily view your site, you will rank easier for on-page and off-page SEO.
To improve technical SEO, you would need to focus on:
Page Speed: Your website should load quickly so that users are not encouraged to hit the "back" button after waiting too long.
Responsive Design: A website should be mobile-friendly and work on all platforms.
No Duplicate Content: There should be no duplicate content anywhere on your website.
No Errors: Websites should not have errors that prevent the search engine crawlers from viewing and then listing the pages in search engine results. You can use tools like Google's Search Console to see which pages are creating errors for the search engine's crawler.
2. Off-Page SEO
According to Neil Patel, off-page SEO focuses on inbound links that your site has from other websites.
These are natural links from authoritative sites. These websites are referring to you as their way to give readers their vote of confidence in what you have to offer. By showing that they trust your site, users on their site will venture over to your pages to see what you have.
In addition to link building with other sites, off-page SEO requires you to link within your own site strategically. This keeps people navigating on your site, but also allows search engines to categorize your pages better.
3. On-Page SEO
On-page is what most website owners are familiar with when it comes to SEO.
On-page SEO has to do with your site's content. It is all about optimizing content with the right mix of keywords (and the right density), as well as providing high-quality content that boosts the user's experience.
On-page SEO has seen significant changes over the few years. Your on-page SEO campaign's success will depend on several factors.
Factors For Success For On-Page SEO
Have relevant content that matches up with what the user was searching for in the first place.
Have a website that is quick to load and has minimum bounce rates.
A website user experience that is trustworthy and engaging.
A site that uses the elements of excellent writing (i.e. catchy headlines, informative content, research links, and images).
Targeting the right keywords, including long-tail keywords in the content.
Linking to related topics within the same website.
Offering a unique website experience for the user.
Find A Pro That Offers SEO In Colorado Springs
Now that you know the basic principles of SEO (and everything the job entails), you are probably ready to hand off the hat to a professional. SEO requires years of experience, practice, and a thorough understanding of what major search engines are looking for. All of these qualities are not something you can learn overnight (or even after a month of thorough research).

If your website is not reaching its SEO potential, you need to call in an expert.
Third Angle offers technical SEO assistance for website owners. We help you reach your target customer, improve visibility to search engines, and optimize your user experience.

Originally published 9/26/2016 and updated 8/5/2020