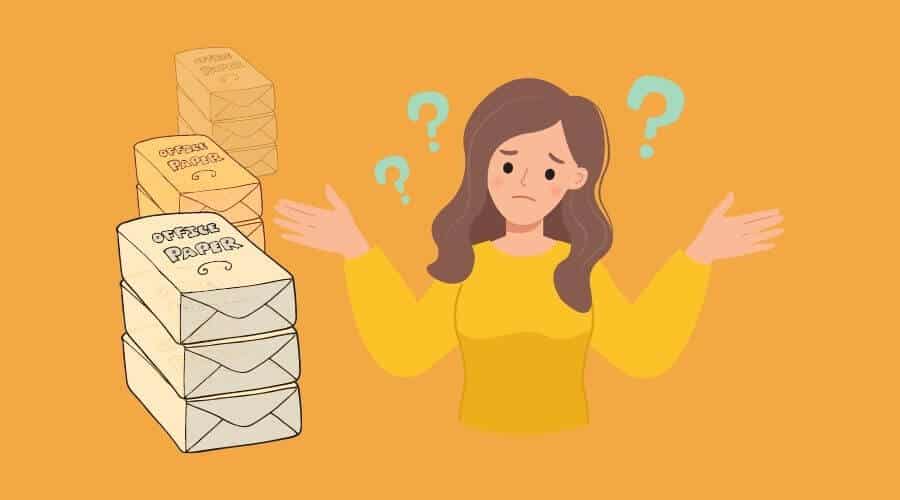 Why are There Paper Shortages?
Posted Apr 15, 2022 | Updated 2 years ago
If you're like us, you're so ready to be done with the pandemic and get all of this behind us. But it seems that post-pandemic life has brought on a whole new set of challenges.
Including … Paper Shortages! Yes, it's a real thing. And it's causing issues for us to print some of the pieces you want and need.
And, on top of that, paper prices have gone up a little more than 25% since January 2021.
There are many factors in play:
Paper mills reduced their workforce during the pandemic. Schools and offices closed reducing the need for paper products.
Many mills transitioned into making boxes (for example, for Amazon) versus making paper. The mills found it necessary to pivot to survive.
Paper types and paper grades were discontinued. This has been happening for several years but was accelerated these last couple of years.
Transportation took a hit. From the backups at the ports, a lack of truck drivers, shipping containers being tied up, and now the increase in fuel costs, all have an impact on delivery times and shipping costs.
Mills are unable to hire enough workers to keep up with demand. We've seen many reasons some are not returning to the workforce which is impacting every industry.
Weather. When you throw fires, tornadoes, ice, and snowstorms into the mix you impact production and transportation.
When Will the Paper Shortage End?
That's the million-dollar question. We've heard anywhere from the third quarter of this year (which we have our doubts) to late 2023.
What to do till then.
Tip #1: Order early. Really early.
By ordering early you'll have options and you stand a better chance of getting what you want and when you want it. We'll be working behind the scenes with our suppliers to get what you want and need when you want it. If it becomes necessary to substitute, we have time.
Tip #2: Be flexible about your paper and/or timing.
We may be working through a lot of alternatives: Be willing to consider them when bottlenecks appear. More common paper sheets are more likely to be stocked. It doesn't mean sacrificing quality or performance, it may just mean a different brand or size. You may still be able to get the sheets you want if you can shift when you need them. For example, materials that used to take a couple of days to stock could now take several weeks.
Tip #3: Lean into multichannel.
Marketing is getting the right message to the right people at the right time. Ensure that digital marketing (we can help you with this) is part of your mix. Especially if you have to delay a direct mail timing.
There are deliverability challenges in every channel, but a well-rounded approach helps defend against issues in one channel or another. A diverse portfolio is the best portfolio.
​
---
​Check your inventory regularly. Order early. And be flexible should we need to find alternative options for your printed pieces.
We're here to help. So, don't be afraid to call or email any questions you may have.
---
PS: Want to read more?
​