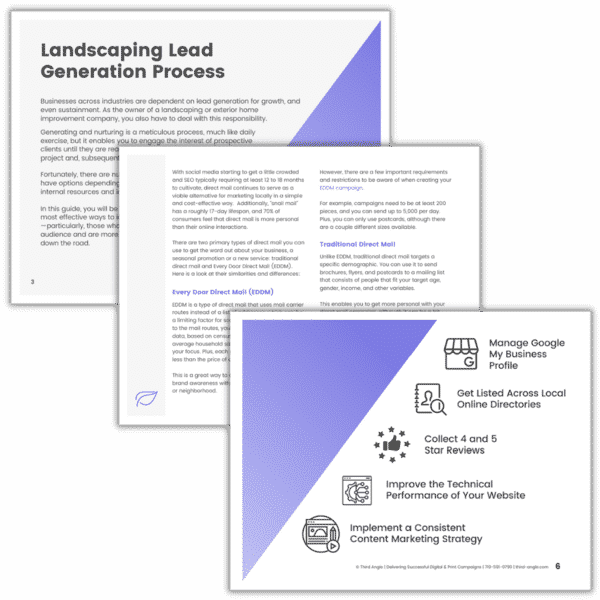 What's Inside Your Guide?
It should only take a few minutes for your Step By Step Lead Generation Guide to make it to your email inbox. (Depending on your settings it may go to your spam folder.)
However, if you are feeling impatient (we totally get it) you can click the link below to download a copy now!
Want to grow even faster?
Hire a whole marketing department
Time is the most precious resource you have. The more time you can give to revenue-generating activities, your earning potential increases. Combine that with an effective marketing campaign, managed by a team like Third Angle, driving quality leads your way only can build upon that.
This may seem counterintuitive but hiring a marketing agency can actually save you money. To get the level of expertise necessary the annual salary for an individual is on average 2 - 3x the annual cost of an agency.
And that ratio increases exponentially when you have to hire multiple people because only one individual can have so much knowledge. By hiring an agency you gain access to a team that has a variety of skill sets and knowledge
Landscaper Website, SEO, Marketing Blogs
Check out these great blogs to get tips without gimmicks for marketing your lawn care or landscaping business.
Originally opening our doors in 1982 we've grown, shifted, and pivoted our offerings to address client needs over the past 35+ years. When you work with Third Angle you will experience unparalleled support, guidance, and communication. Our team is comprised of problem solvers with a passion for helping and giving back. Third Angle's purpose is to make you and your business feel and see, the benefit of having an experienced team poised to assist you with all of your marketing needs.