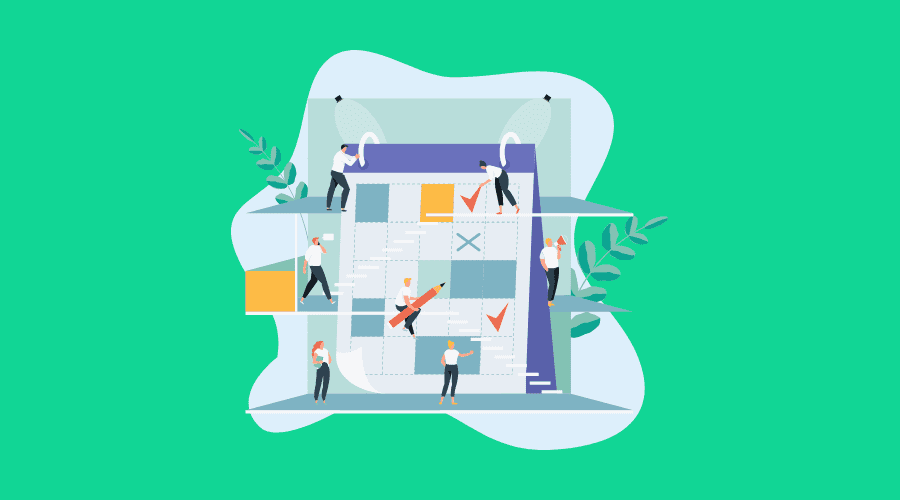 What Kind of Pages Should Be on Your Landscaping Design Website
Posted Sep 15, 2021 | Updated 2 years ago
First impressions count, and for many landscaping design companies, a professional website facilitates the first encounter between them and prospective customers.
It's important to ensure that your company website both appeals to users and gives them the information they need to move forward with hiring you for a project, now or in the future. The first step is developing a website that separates various information and resources onto different pages in a logical and user-friendly way.
Key Pages for Your Landscaping Website
When building your company website, you must decide what pages to include and how to divide your content. Throughout this process, be thinking about your various buyer personas and their different goals for being on your website.
You will have website visitors who are at different stages of their buying journey, meaning some who just now became aware of you, some who are evaluating you against other options, and some who are looking to hire you, or even hire you again! You will also have different website visitors coming from different sources, like a search engine or Facebook, and landing on different pages as their first point of entry.
You should include both information that converts visitors into leads, leads into new customers and existing customers into delighted, well-informed customers with resources they would need throughout the course of their outdoor improvement project. Your website also should be easy and intuitive for them to navigate.
Here are some must-have pages to incorporate into your landscaping design website, as well as a few ideas for extra content:
1. Homepage
Your homepage is typically the first stop for both prospective and repeat customers. Your home page should be compelling and eye-catching, with a clean design, high-quality visuals and limited text that provides essential information while motivating visitors to explore further. One homepage idea must have is to have a professionally photographed example of your work at the top.
Since visitors could be coming from a variety of sources and for a variety of reasons, the goal of your home page is to welcome users to your site, draw them in, and show them clearly where to go for the specific information they seek. Help them to accomplish what they need to, whether that's booking a consultation, reviewing your services or perusing a portfolio by displaying a clear navigation at the top and using thoughtfully placed calls-to-action to lead website visitors through your content.
2. Services
As an outdoor living space and home improvement company, your services are often desired for some sort of quality of life or lifestyle motivation. Local property owners want to know right away whether you offer the service they are looking for and if you will be the hassle free option that provides the most value to them.
Depending on the size and scope of your business, you might have a single page with a comprehensive landscaping design services list, or you might break out your services into their own individual pages. Both are valid options depending on the situation and your SEO strategy. For example, you could include a services page for residential property owners and one for commercial property owners, or different pages for different design packages.
3. Service Areas
Along with what services you provide, people will want to know where you provide them. You can break this down by cities, neighborhoods or regions, or by zip codes. A map is also a helpful tool that adds an attractive visual to your web page as well. The service areas section is not only useful for prospective customers, but it also gives your website a boost when it comes to local search engine optimization (local SEO).
4. Pricing Information
Developing a pricing page for your website might be a bit tricky, as landscaping design and outdoor improvement projects often vary depending on size and scope. You want to give a general idea of project costs so that you can help prospects through their research journey before requiring them to talk to your sales team. Prospects want to know what to expect so they can qualify themselves based on prices before moving forward in any way.
There are ways to provide landscape design pricing ranges without getting too specific or locking your company into anything. One idea is to share information about the factors that impact pricing, or you can provide a link to a pricing guide developed by an association that provides this information for your particular region. A link to information could also be included on a FAQs page.
Gated pricing information is a tried and true way to capture leads to nurture via a strategic email marketing campaign and can help deter competitors from snooping around for your pricing information without keeping the information researchers are looking for locked behind a conversation with one of your sales reps.
5. Landing Pages for Lead Magnets
Your website needs to be an effective tool for collecting lead information so that you can nurture those leads into actual customers. One way to capture leads on your website is with landing pages that incorporate lead magnets, meaning items you give to users in exchange for contact information.
In the landscaping design industry, this could include high-value content, such as gated pricing guides, backyard design templates, shrub bed design guides, or other unique resources for which potential customers would be willing to exchange their name and email address.
The key is to make the resource valuable enough and unique enough that the researcher cannot find this exact same information anywhere else.
6. Request a Quote/Book a Consultation
Your whole website should include calls-to-action (CTAs) that point visitors towards scheduling a landscape design consultation, and so you also need a separate page where visitors can request a quote or book a landscape design consultation. When users fill out this form, you know they are more serious about starting their project, as opposed to being in the exploratory phase, and you can prioritize these leads.
You might incorporate specific pages with lead magnets to guide them closer to this step in their buyer's journey and the thank you page for your lead magnets are prime real estate to point user's towards scheduling a consultation next.
We recommend that landscape design firms differentiate between their generic Contact Us page and their Request a Quote/Book a Consultation page because the user intent for each page is often different.
7. Before-and-After Photo Gallery
Your landscape design website will be replete without stunning examples of past projects that are strategically placed throughout your website content and in it's own gallery. Even better than a collection of results photos is a collection of before-and-after photos that will get prospective customers excited about your transformative work.
Add a page on your website with a portfolio or a gallery with before-and-after photos. Mimicking the layout of Instagram or Pinterested is an effective method for mass imagery display that users are used to seeing. Some text can be helpful, but this page should primarily focus on visual elements, such as photos or even videos showing transformations your company facilitated. Linking to full project spotlight write-ups is often a better way to share information about the project rather than try to squeeze the information on to your gallery page.
8. Blogs, Project Spotlights, and Other Resources
Content in various forms have become an effective way to market your business, cultivate leads and improve your website's SEO. If you have the capacity to regularly produce blog content and project spotlights for your landscaping design company, incorporate the necessary listing pages on your website where customers can find them.
Once you develop a blog, however, it's important to maintain it and be consistent. You can also use this page to post your insights regarding industry news, share company updates or post press releases.
9. About Us Page
While your About Us page is about you and your team, it's critical to keep the content of this page customer-centric still. You can accomplish this feat by stepping into the shoes of your target buyer and conveying the value they would receive from hiring your landscape design firm over any others.
Say you've been around for 50 years. Instead of stating that, convey that prospective customers will be able to leverage your 50 years of experience on their project to enjoy a seamless landscape design and build process.
It's important to give website visitors an idea of who on your team does what and who they can expect to interact with. Hire a professional photographer to get high quality headshots of each team member that can live on the About Us Page of your website.
Finally, be sure to use this website page to acknowledge the industry accolades and certifications that you hold.
10. Privacy Policy
A page containing your privacy policy is also a must-have for professional websites as data protection regulations tighten. It's also required for running ads. This page should include:
What data you collect from site visitors
How visitor information is stored, processed and shared
How site visitors can get a copy of the data you collect from them via your website
Developing a Website for Your Landscaping Company
To maximize the value of your landscape design website, it must be structured properly and include the right information. That means including the right type of information and organizing it in a conscientious and compelling way that aids site visitors, regardless of their end goal. If you're ready to build a website for your outdoor improvement company, our team at Third Angle can assist. We offer personalized website design and development services to help you create a website that makes sense for your business and your customers.