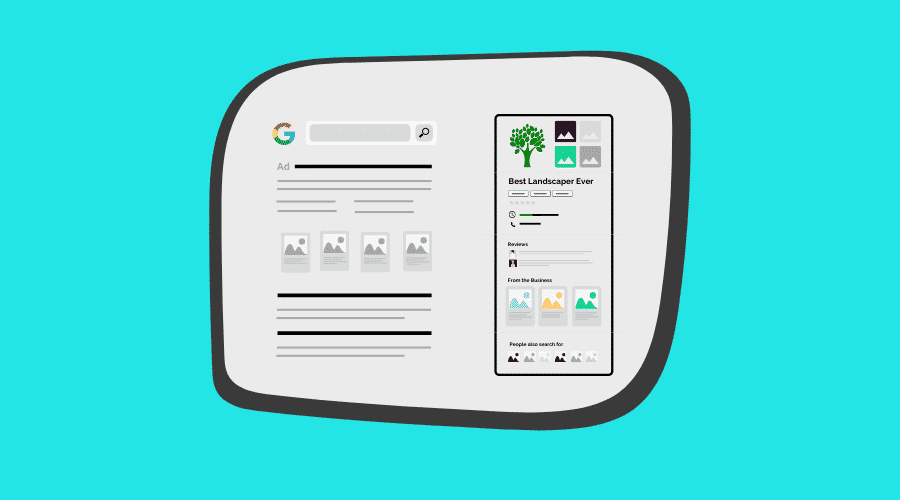 How to Set Up a Google Business Profile for Your Landscaping Company
Posted Nov 10, 2021 | Updated 2 years ago
In this day and age, Google has become almost synonymous with seeking information on the Internet. Google's search engine is the most popular—and arguably the best, from the perspective of providing the most personalized answer to a search query.
In order to keep your landscaping company competitive, even in a local market, you have to monitor how your website ranks in Google search results and other search engines.
One of the most effective ways to strengthen your digital presence is by setting up and managing a Google Business profile.
What is a Google Business Profile?
Google Business Profiles is a free tool you can use to manage your online presence across the Google platform, including Maps and Search. It is similar to other online directories that connect browsers with local professionals and companies, but it was created by Google. (Google Business Profiles is the same concept as Google My Business, but is the rebranded version of the free tool as of November 2021).
By verifying your business and providing key information—such as your hours of operation, website and address—you make it easier for prospective customers to find your landscaping design company on Google and then contact you about a potential project.
Additionally, you can personalize your business profile with photos, posts and special offers to showcase your brand and motivate local property owners to get in touch with you for their landscaping design needs. With a Google Business Profile, you can directly interact with customers by reading and responding to their reviews or answering their questions.
In these ways, you can start building rapport with prospective customers who are considering reaching out.
How Does a Google Business Profile Benefit Your Landscaping Company?
Having a Google Business Profile increases exposure for your landscaping design and installation company, making you more visible to prospective customers and helping you generate leads. In the landscaping industry, those will primarily be locals.
When people look for companies like yours in their city or region using relevant keywords (i.e. "landscapers near me" or "landscape design-build companies in Colorado"), your business information is more likely to rank higher in search results. This is good news, since property owners are apt to choose a professional or business from among the results listed first.
Another benefit is the ability to gain information and insights about where your customers come from, how people are searching for your business, and how many are calling your business from the phone number displayed on local search results. With that data, you can develop local marketing campaigns and better connect with your key audience.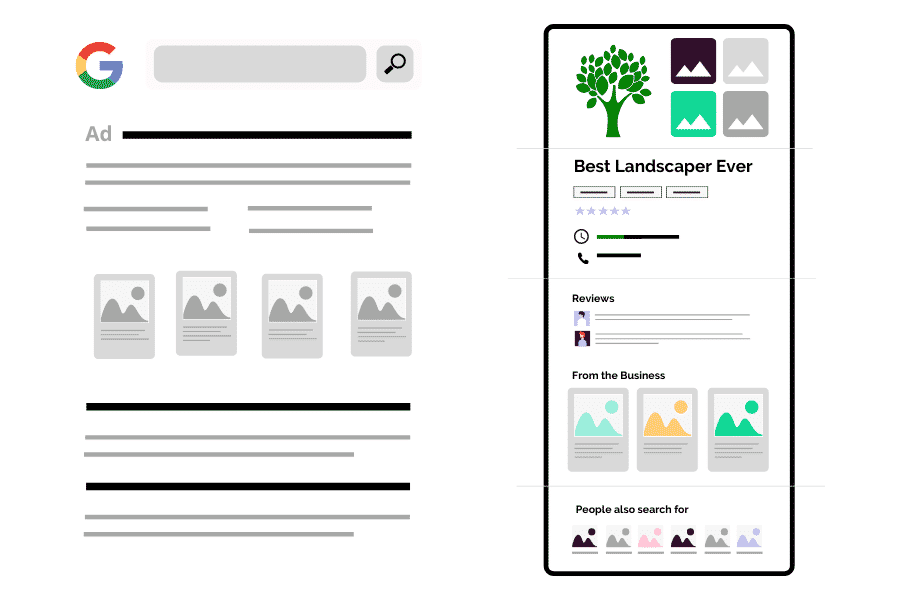 How Do I Create a Google Page for My Business?
Here are a few tips for setting up and optimizing your page as a landscaping company:
1. Claim Your Listing
First, search for your company on Google. There may already be a basic, bare-bones listing for your business, and you simply have to claim and verify it so you can then edit and manage the profile in the future. If your business doesn't show up in search results, you have to set up your own listing, which you can do here. Either way, that's just the first step. The more details you add, the more likely you are to see SEO benefits. For example, you will add your business name, physical address, service area, phone number, and website address.
Bear in mind, you will have to validate your business via a mailed verification code from Google before you can proceed and fully setup your profile, so at the very least, take 5 minutes now to initiate that process so that a couple weeks from now you can finish the task.
2. Add Details to Your Listing
Next, you should create a compelling landscape company description to incorporate into your profile. For a residential landscape design-build company description, that could be something along the lines of:
A full-service landscape design-build company helping homeowners in (YOUR CITY) create their ideal outdoor living spaces, from concept to completion.
For a commercial landscape design-build company, your description may read something like:
A (YOUR CITY) landscaping company specializing in the planning, design, installation and maintenance of beautiful and functional outdoor business spaces.
You have 750 characters to describe your business and what sets you apart from the competition, but on your Google Business Profile, the company description doesn't affect your search-engine ranking.
A few other sections to fill out include Products/Services and Category/Attributes. These especially contribute to your SEO for specific keyword phrases, such as "outdoor living construction," "landscape management services" or "landscape design and build." Ultimately, you should create consistency between the terminology and information that appears on your profile and what you've included on your professional website.
3. Incorporate Photos
If you have some quality photos that showcase your past projects, include them. (And if you don't, get some professional photos ASAP). Research demonstrates that business profiles with photos receive approximately 35% more click-throughs to their website and 42% more requests for directions on Google maps than similar business profiles without photos. Make sure the images you incorporate are eye-catching and high-resolution, not blurry or underwhelming. A company logo and photos of your team are another good addition.
4. Respond to Reviews
Once you've set up your Google Business Profile, keep an eye on it. For example, monitor the reviews and respond to both positive and negative feedback to nurture your customer base. You'll get email notifications to the email associated with your Google Business Profile when new reviews are posted. The Google algorithm factors reviews heavily when it comes to determining overall search-engine rankings, generally favoring businesses with ratings of 4 stars and higher.
5. Utilize New Features
Google occasionally rolls out new attributes and features for business listings to help you further stand out from the competition and garner interest for local searchers. Not all of them are applicable to landscaping designers and installers, but it's a good idea to check periodically for how you can update or refresh your profile.

FAQs
What business category is landscaping?
There are just shy of 4,000 business categories on Google Business and you can select up to 10 categories, denoting one category as your primary business category. Search for the following as most relevant to your landscape services business:
Landscape Architect
Landscape Designer
Landscape Lighting Designer
Landscaper
Landscaping Supply Store
Lawn Care Service
Lawn Equipment Rental Service
Lawn Irrigation Equipment Supplier
Lawn Mower Repair Service
Lawn Mower Store
Lawn Sprinkler System Contractor
Deck Builder
Swimming Pool Contractor
Swimming Pool Repair Service
Concrete Contractor
Contractor
Fence Contractor
Fountain Contractor
General Contractor
Lighting Contractor
Masonry Contractor
Paving Contractor
Pond Contractor
Rock Landscaping Contractor
How do you add a second location to Google Business Profile?
First ensure you have your first business designated within the proper "Business Group." Then you can create the individual listing pages for each location of your landscaping business. Here's how to add a second location according to Google.
A word to the wise; do not create a new listing page for each municipality you serve. If this is your objective, create ONE listing and edit the service areas section as you expand or adjust territories served.
How do show multiple phone numbers on Google Business Profile?
You can add multiple phone numbers within the editor section of your Google Business Profile after you have claimed it, but only the primary phone number will display on the search engines results card.
Google Business Profile Management
When used correctly, Google Business Profiles, previously known as Google My Business, is an incredibly beneficial tool for landscaping companies, who rely primarily on local customers to grow their business. The good news is you can easily verify or create a Google business listing and then take advantage of this resource by adding business information, photos and more.
If you're not sure how your landscaping company ranks on Google or how you're performing in terms of local SEO, Third Angle can help. Our local landscaping company marketing plan includes a variety of key services, including a full local search audit, competitor analysis and a customized plan of action, including optimizing your Google Business Profile.