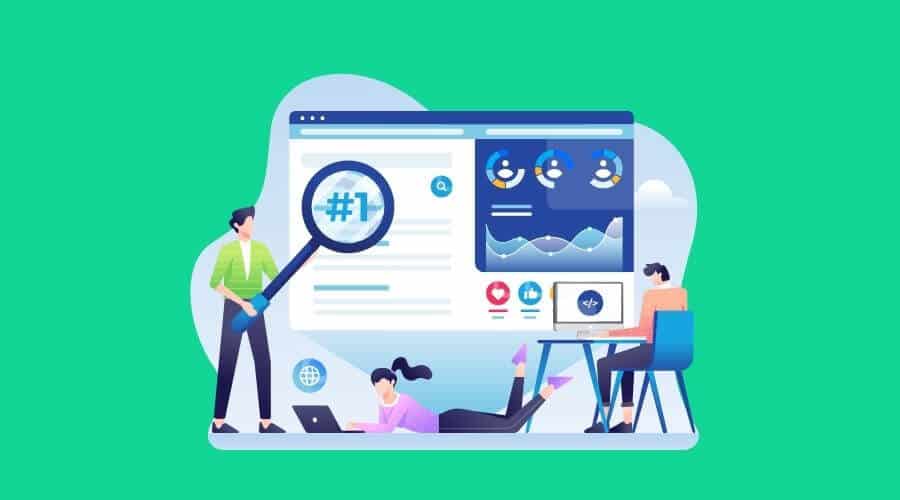 [Checklist] What Makes a Good Small Business Website in 2023?
Posted Jan 3, 2023 | Updated 11 months ago
What are the elements of a good website? This question is top of mind to small business owners in Colorado Springs because it's never been more apparent than now that having a lead converting website is essential to being successful in the digital age.
So, what exactly DOES make a good website? At the very least, a website should be functional; simple, yet pleasing to the eye; portray a consistent brand; answer user's questions; build trust in your brand; and be built well enough to rank in search engines. There are several strategies your expert website design team will employ to achieve this multifaceted goal.
1. Good Websites are Designed for Smartphones
Designing a website for smartphones, tablets, and desktops devices of varying screen sizes is known as "Responsive Website Design."
Elements of Effective Responsive Web Design Include:
A fluid grid layout that can stack or shift elements when screen sizes are different
Flexible image, video, element, and text sizes that are based on a ratio comparatively to screen size rather than based on a strict size; this is enabled by using CSS media queries
Skillful use of white space that translates well across varying screen sizes
By implementing these elements, you're ensuring that your website can be viewed on different screen sizes without hindering the user experience navigating your site.
Since most websites in 2022 receive at least 50% of their traffic (if not more) from smartphone users, you really should be designing your website in a way that considers user experience on mobile devices highest priority.
2. Good Websites are Designed With The End Goal In Mind
Before any modules hit the page or any fun design elements are created, answer me this – What do you want people to do when they go to your website?
For service businesses in Colorado Springs, your top of mind goal is likely to be for users to do one of three things:
Call you
Submit a 'contact us' form
Book a service directly
For products based businesses in Colorado Springs, the goal of driving traffic to your website is likely to sell products via eCommerce web capabilities or to increase brand awareness of your storefront.
Once you know the end goal that you are driving users towards, THEN you can begin to design your website with that end goal in mind, ensuring you are encouraging users towards your contact information and contact pages whenever relevant. You should implement best practices for "call-to-action" buttons to influence the buyer's journey on your website.
"Calls-to-action" guide users through your website; they communicate what next step people can choose to take next and they provide a quick way to take that next step. A good website will employ relevant calls-to-action throughout website pages and at the end of website pages to ensure no user is stranded at the bottom of a page, wondering what on earth they should do next. If they don't know where to go next on your website, they have a higher probability of choosing to leave your website entirely.
Launch with a Bang!
Download our free Website Launch Announcement Checklist to avoid the dreaded flop. Learn how to build anticipation before your business website has launched.
3. Good Websites Reduce Friction for Your Users
Does your website pass the infamous "drunk test"? Meaning, if a drunk person was on your website, would they know exactly what you want them to do? If not, it's probably because the navigation and structure of your website is over-complicated. Consider how to get your web visitor to complete the goal in 2 minutes or less and use that as your foundation for site structure, page count, and page content.
When you apply this principle to website you enjoy using regularly, you'll find that an easy to use website will:
Have Simple Navigation
Maximize Use of "White Space"
Limit Options Visible at Any Given Time
Minimize Context Switching
Do your website visitors a favor and simplify your website so they can quickly do what they need to do or find what they came looking to find.
4. Good Websites Have Good Form
If you're looking for ways to turn your website into a lead generating machine so that you don't have to pick up the phone and start cold calling people, lead conversion offers tied to a form are the way to go.
Successful businesses are able to generate leads from a variety of online and offline sources, and to generate online leads, you can start by having at least one form on your website. Most businesses have a "Contact Us" type of form on their website, but there are countless other options depending on your industry and goals.
By guiding people through your website and towards a form, then having a well designed form and giving users a sufficiently compelling reason to submit said form, you will have turned your website into a marketing and sales tool that doesn't clock in and out (and doesn't complain about not having unlimited vacation days).
Working With a Website Designer in Colorado Springs
You have enough problems to deal with every day – redesigning your website to perform well in 2022 doesn't have to be one of them. The most assured way to have a good website design is to work with a team of designers and developers who spend day in and day out designing effective, search engine friendly websites for fellow small businesses in Colorado Springs. Interested in learning more? Let's chat.