Is a One Page Website a Good Idea for Your Colorado Business?
Posted Feb 7, 2021 | Updated 3 years ago
In the sphere of web design, objective opinion abounds, especially on the topic of single page website design and whether you can have a one page website that is a search engine optimized or if it is wholly impossible. Allow us to add our objective opinion to the mix. 😜
What is a one page website? (and who are they good for)
A one page website is designed and structured such that information traditionally spread across 5-6 website pages is organized into one, longer page. Single page website design employs regular use of anchor links both throughout the page and as the menu/navigation links to ensure a positive user experience and increase website conversion rates.
With this method of website development, your expert design team is able to tailor the messages from the most important pages on a typical website (home, about, products/services, contact) into one page that paints a full picture of your Colorado business. Single page, scrolling websites are best if
You do one thing or sell one thing
You are just starting your business
You plan on implementing a regular content strategy via blog articles
We are in favor of the one page website approach for many of the businesses and organizations we work with as long as you have a plan for regular content creation via blog articles for SEO purposes. There are, however, situations when a single page, scrolling website, is not going to be ideal for a user's experience on your website.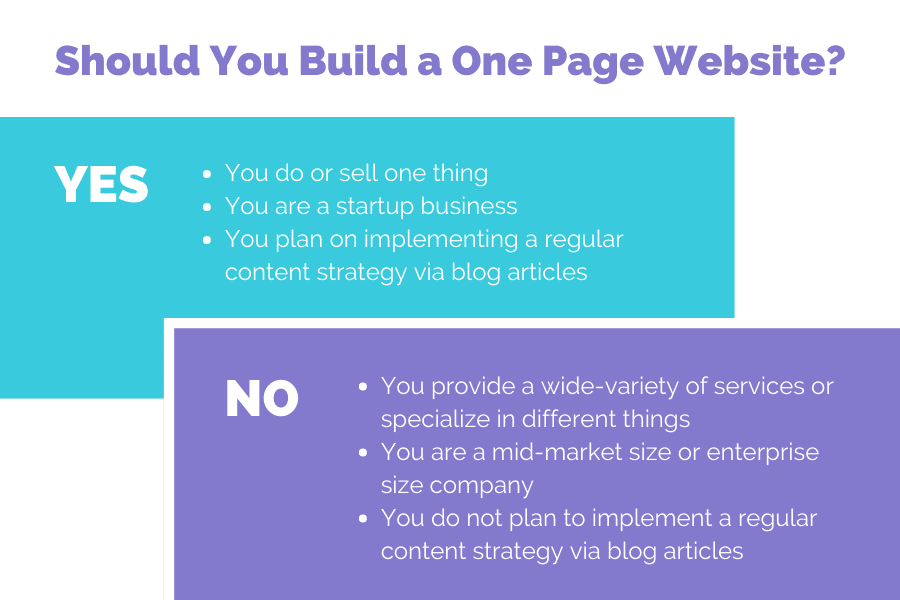 What are the Benefits of Single Page Website Design?
A single page, scrolling website is a good option for many small businesses and non-profit organizations near Colorado Springs. The caveat is that if you decide to build a one page website, you need to have a plan for regular content creation via blog articles.
Without that plan and the support structure to implement said plan, an organization's chances of ranking well in search engines drops dramatically. (Realistically, you should be publishing new content to your website regularly regardless, but it's especially important if you have a single page website.)
Single page websites can also provide a highly structured user experience and clear direction towards the action you're leading users towards taking, such as submitting a contact us form or making a purchase. In this age where consumers are constantly being given choices of what to click on next, it can be a nice reprieve to not be forced to click through a navigational menu of choices as they hunt for the answers to their questions. Plus, people aren't patient if they can't find answers quickly – they'll abandon your website.
One page web designs are a perfect solution when your goal is to K.I.S.S. the problem, meaning Keep It Stupid Simple. There is absolutely no need to overcomplicate your website for either yourself or your users. No business owner likes having to write content to make a page feel like it's full, and no user likes reading the fluff content that is inevitable when that tactic is employed.

Consider also that what may seem like important information to you, may not be relevant to your audience's buyer's journey as much as you think. Reframing your mindset of what a website has to be is crucial to being successful online. Consider the value of investing your limited time and energy into the other aspects of your marketing plans rather than wasting your precious time hashing out more website pages merely because the traditional view is that a website consists of 6-12 primary pages. The most important thing is that your website answers user's questions and guides them towards completing their research or purchase objective. Substantially less important is that there are an exact number of unique pages in your menu.
How much is a single page website?
One of the best parts of developing a single page website is the lower development costs associated with this approach. These kinds of websites cost less to build because most of the time spent will be on the nitty gritty backend development items to connect all the bells and whistles and then flip the switches rather than grueling over content creation and design architecture for unnecessary pages.
You can expect one page website builds to start at about $3,000 and go up from there if you want to have fancy on-page elements or unique features associated with your blog section. The lower website development costs allow you to invest the rest of your budget towards blog article development that will empower your search engine rankings better.
Potential Pitfalls of One Page Website Design
By and large, the largest downside to one page website design is stunting your search engine ranking potential. It is true, that the less valuable content you have on your website, the lower your SEO value is likely to be. This is because SEO and content are mutually exclusive. Without content that provides users value, your website in general will not rank well on search engines.
For this reason, we do not recommend one page website design for Colorado businesses and organizations who are not committed to publishing new content regularly in the form of blog articles, tutorials, and other educational content. If you are, however, committed to a consistent content strategy, a one-page website may the perfect option for you.
There are some who assume that the longer a website page is, the less engaged users will be. This is not a hard and fast fact, however. Realistically, the cultural adoption of social media platforms and digital news platforms that are designed to keep a user scrolling serve as a catalyst for the success of single page, scrolling websites. People are used to it, especially when conducting research on their mobile devices.
Are one page websites bad for SEO?
The most likely reason most small businesses and startups in Colorado Springs still do not opt for a one page website is for fear that their website will not perform as well in search engines compared to a multi-page website. Our team at Third Angle agrees that in order to rank in search engines, you must have quality content indexed. That's why we recommend that businesses with one page websites implement a consistent, thoughtful blogging strategy. We have seen one-page websites with blogs outperform traditional 6-12 page websites because the focus was about answering user intent and user's questions via blogs, rather than having a seemingly standard number of website pages that would not have been able to answer the same questions as well as the blog format could.
Does the number of pages on your website affect SEO?
The number of pages on your website affects SEO only in so much as the quality of content and the value provided to researchers is answered on those pages. A website housing 100 pages with no valuable information will still rank lower than a website with 10 pages that adds value to a buyer's researching or purchasing process.
How many pages should a website have for SEO?
To rank well on search engines, a website should only have as many pages as adds value to their audience and buyer's journey. Instead of trying to "game the system," we recommend you focus on your customer and dedicate the time and energy you have towards improving their ability to answer the questions they have online, whether that be through website pages, blog articles, or other means.
Are one page websites a good idea?
So, are one page website a good idea? For small businesses, churches and nonprofits, as well as startups in the Colorado Springs area, a one page website could be the best option for your website. For mid-market and enterprise level businesses, a one page website is likely not your best option. If you're not quite sure how many pages should be on your website, reach out to us. We can talk through whether or not your organization would be better served with a one page website or a multi-page website given your unique operations and website goals.