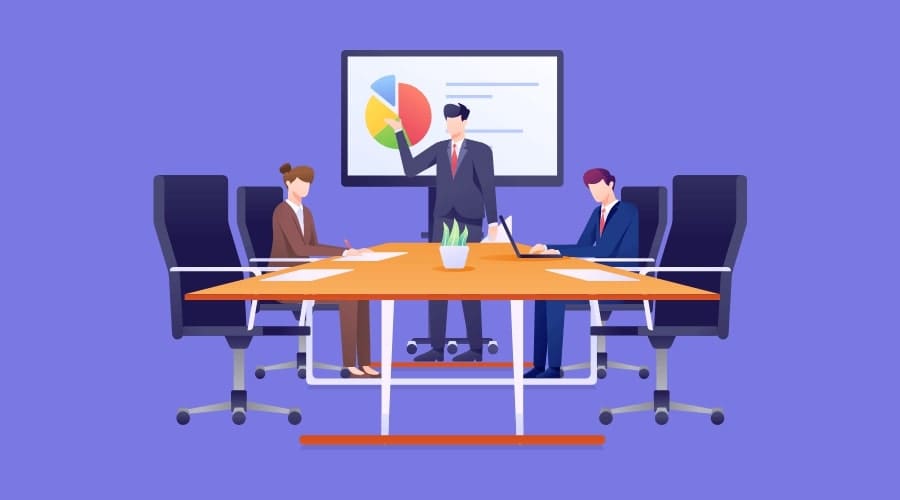 7 Best Places for Business Meetings in Colorado Springs
Posted Mar 9, 2021 | Updated 2 years ago
Selecting a location for your upcoming meeting may not seem like a big deal. However, there are several details to consider if you want it to run smoothly and be productive for your small business. For example, does the restaurant, cafe or conference center have the appropriate atmosphere and adequate space for the exact type of activity you're planning? If you need to work on a project with a business partner or colleague, you want to pick an establishment with high-speed wireless Internet—and where you can hang out comfortably for a couple hours without getting on the nerves of staff and other customers. If you're meeting several people, it's important there is enough seating to accommodate you all.
As you start organizing your next team-building event, staff luncheon or business meeting, here are a few locations in Colorado Springs with private rooms and other suitable accommodations:
Best Restaurants with Private Rooms in Colorado Springs
1. The Bench
The Bench in downtown Colorado Springs is a popular place to go for sports and brews, but it also has a private room that can seat up to 50 people. The meeting space has sliding doors to provide your group with privacy and great acoustics that create a comfortable, conversational environment. The restaurant also has TVs with casting technology for presentations and you can request catering for your small business event in Colorado Springs.  
2. Urban Egg
Urban Egg, also located in downtown Colorado Springs, has three conference rooms of varying size to accommodate business meetings that take place over breakfast or lunch. In non-COVID times, The Lounge can seat 70 people, while The Aspen Room has a capacity of 35 and The Loft has a capacity of 25. With stunning mountain views, pool tables, a fireplace and audio-visual technology on hand, Urban Egg is ideal for both formal meetings and business presentations, as well as fun staff parties.
3. Mackenzie's Chop House
Mackenzie's Chop House also has three private rooms, each one designed for a different purpose or occasion. For a modestly sized conference or networking event, consider booking the private clubroom, which seats up to 60. The capacity in the restaurant's private dining room is a maximum of 20, while the 15-person vault room is better suited for gathering with a smaller number of clients or colleagues. Mackenzie's also has the capacity to add your company logo and other images to a customized menu.
Best Conference Rooms and Event Centers in Colorado Springs
4. Colorado Springs Event Center
The Colorado Springs Event Center on Palmer Park Boulevard is one of the largest venues in town. While the center is best known for hosting big events, such as trade shows, job fairs, expos and entertainment, it also offers private and corporate packages. With more than 90,000 square feet of flexible event space, the center is a great spot for hosting a networking or partnership event with other small businesses and organizations from the Colorado Springs community.
5. The Penrose House Conference Center
Penrose House Conference Center, a nationally registered historic place, is a unique establishment because it's offered exclusively to Colorado's nonprofit sector and government agencies. However, if you run a nonprofit organization, you're in luck. The center is available free of charge as long as you use the space for strategic meetings, seminars and trainings. You can't host parties or other social get-togethers at The Penrose. This conference center is highly rated for its lovely grounds and architecture, as well as generous parking and well-maintained restrooms.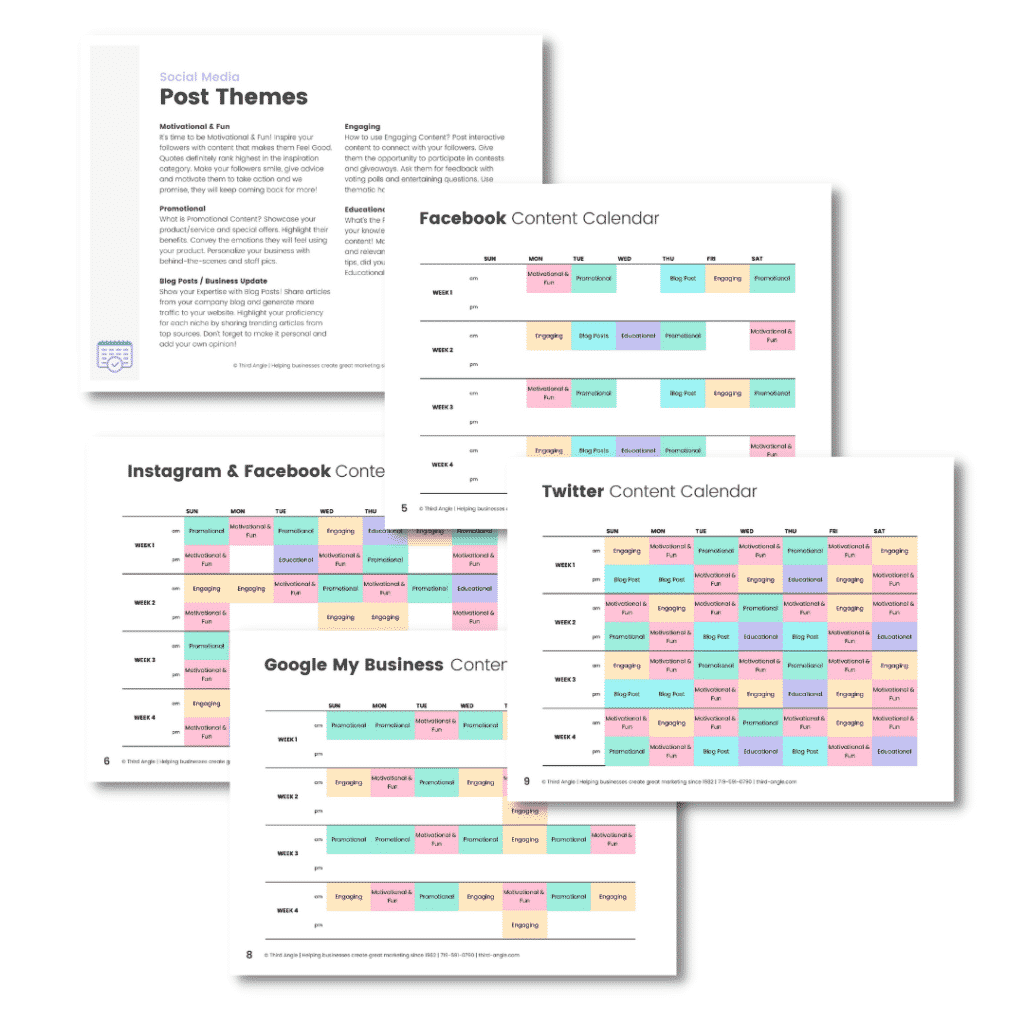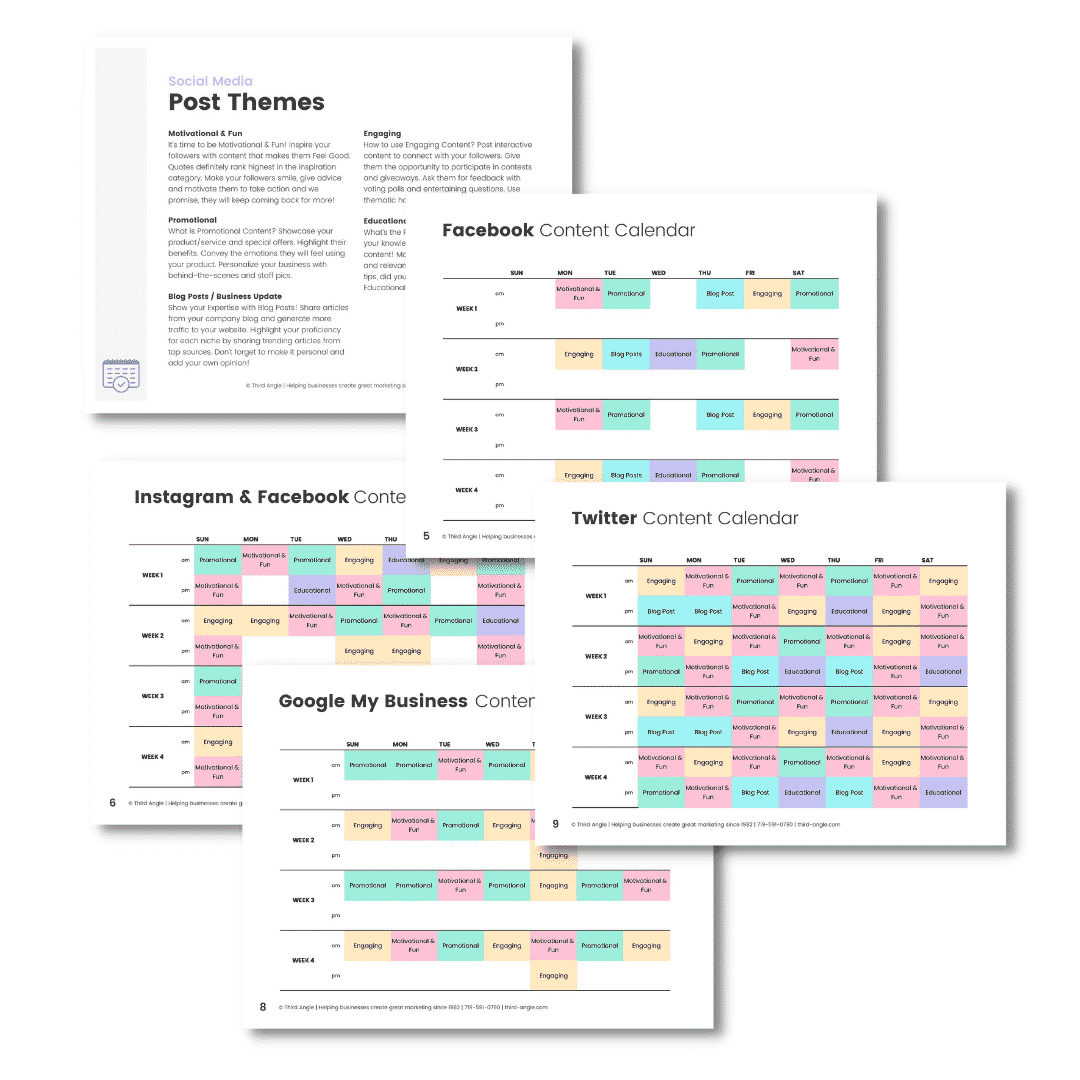 Sample Social Media Calendar
Get sample calendars for Instagram, Facebook, LinkedIn, Pinterest, Twitter and even Google My Business.
Best Coffee Shops with Meeting Rooms in Colorado Springs
6. Sacred Grounds: Café and Cocktails
Sacred Grounds, a popular café in Cheyenne Canyon café, serves up wholesome food and refreshing libations. When you need a spot to grab lunch with a coworker or business partner, this café should be on your go-to list. There is also outdoor seating for a small group meeting or professional event.
7. Third Space Coffee
If you're looking for coffee shops with meeting space, Third Space Coffee is just the place for you. This artisanal coffee shop on Academy Boulevard has ample space to host large gatherings, or you can reserve the meeting room for small groups. Open weekdays from 7 a.m. to 7 p.m., Third Space Coffee is also a choice location for meeting one-on-one with a coworker or client and enjoying fresh-based pastries and delicious beverages.
You can find a cozy routine at these other great coffee shops in Colorado Springs on a more daily basis as well.
Meeting Your Small Business Needs in Colorado Springs
Here at Third Angle, we have diverse marketing solutions to satisfy a number of your other professional needs. Whether you're looking for website development and management or logo design and branding, we've got you covered. We care about the success of your small business, which is why you can expect a no-nonsense approach of transparency, open communication and insightful feedback throughout the duration of your web design or print & mail project.