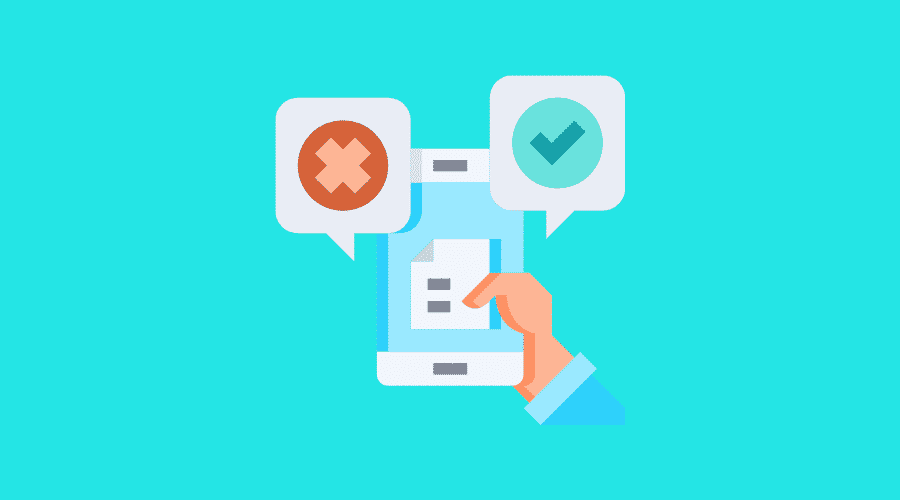 How to Remove Fake Reviews on Google
Posted Dec 22, 2021 | Updated 1 year ago
A bad day can happen when a one-star review rolls in that is about a different company entirely or that comes from a disgruntled customer or employee.
Then there's the kind of nightmare scenario no small business owner wants to face; waking up to dozens of one-star reviews out of nowhere and knowing none of them are real. Unfortunately, this happens more often than you may think as a way for companies to get after their competitors or anyone on a power trip who had a bad experience to feel as though they are creating their own vindication.
When this happens, it's difficult, but not always impossible, to get the attention of Google to resolve the issue.
How to Request Remove of One Star Reviews
Document all evidence. Take screenshots, document time stamps, names, and any other information that has to do with the situation. Time stamps are especially important as Google will ask for them during any review remove process.
Flag the posts in your Google Business Profile. You can do this by clicking on the icon of three stacked dots in the right corner of each individual review in your Google Business Profile.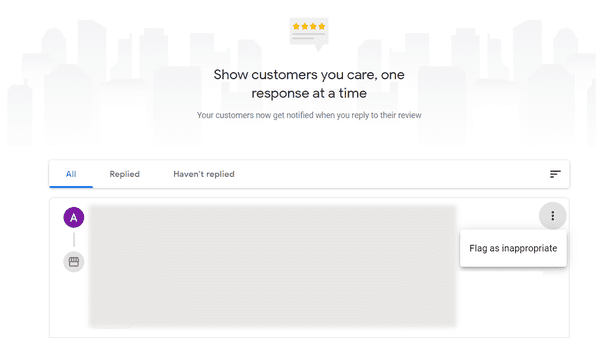 Be kind, factual, and precise in your messages to Google and within any forums you are raising awareness of the issue within.
Be persistent. It is unlikely that you will get an email back from Google saying they removed the reviews. Rather, you are likely to get a canned email that basically says there doesn't appear to have been foul play. After this, post on forums where Google contributors are active. Google contributors often don't work at Google, but they have the influence and know who to route the issues to.
Be patient and be appreciative.
It's important that when you get these kinds of fake reviews, that you respond to any one-star reviews with tact and professionalism. This will give anyone who sees the negative reviews a sense of the situation without degrading trust in your business from an emotional response.
How We Helped Get Rid of 42 Fake Reviews on Google
One of our clients reached out first thing one morning in utter despair over 42 one-star reviews hitting his Google Business profile within a 24 hour span.
Where all of the one-star reviews were coming from we did not know. We do know our client though, and their 4.7 star rating from about 125 real reviews had been obliterated overnight so we began documenting the situation and looking for routes of resolution.
A good Samaritan then called our client and informed him of an Instagram story that was circulating from a previous, disgruntled office neighbor, who was promising a nice incentive for anyone who left a one-star review on our client's Google Business profile. Since Instagram stories disappear after 24 hours, Sarah's quick thinking to record the video on another device gave us the proof we would need to share with Google to support our efforts in removing the negative reviews.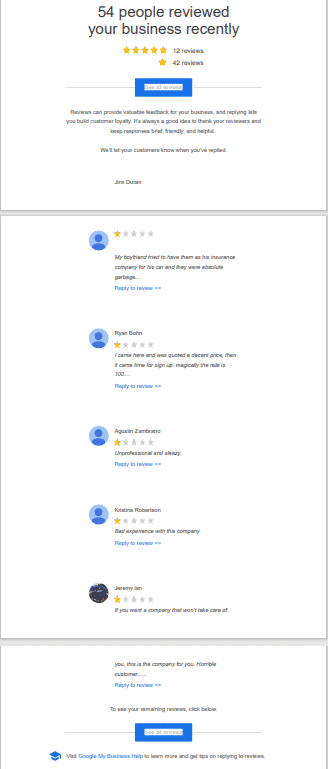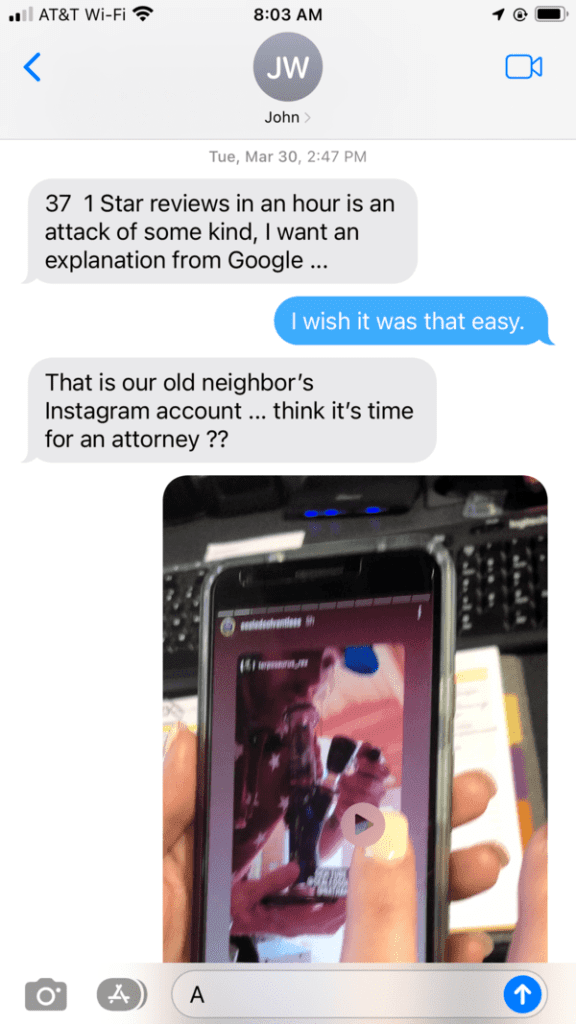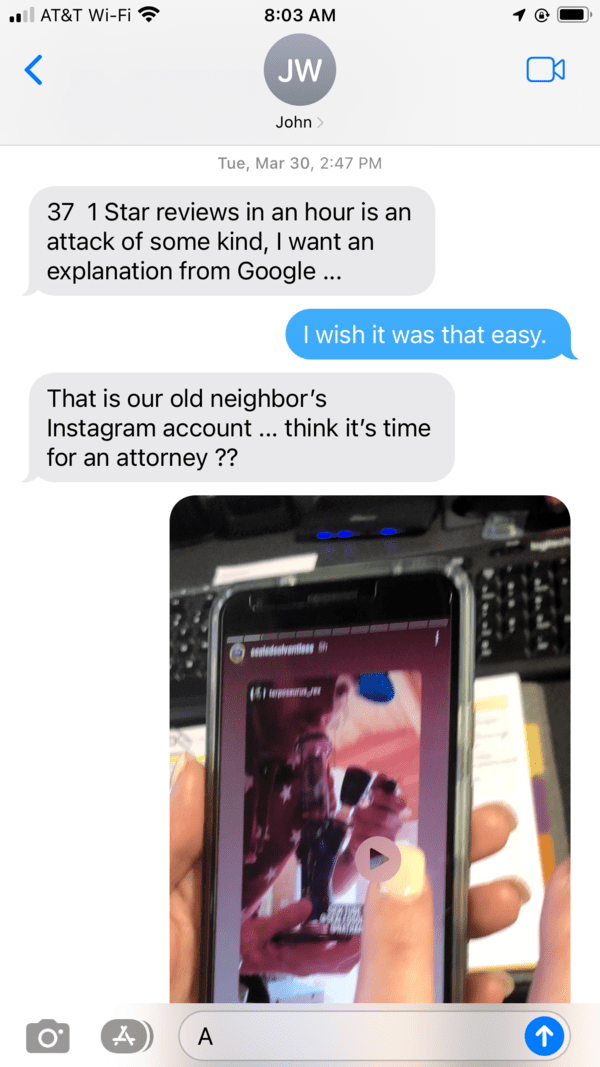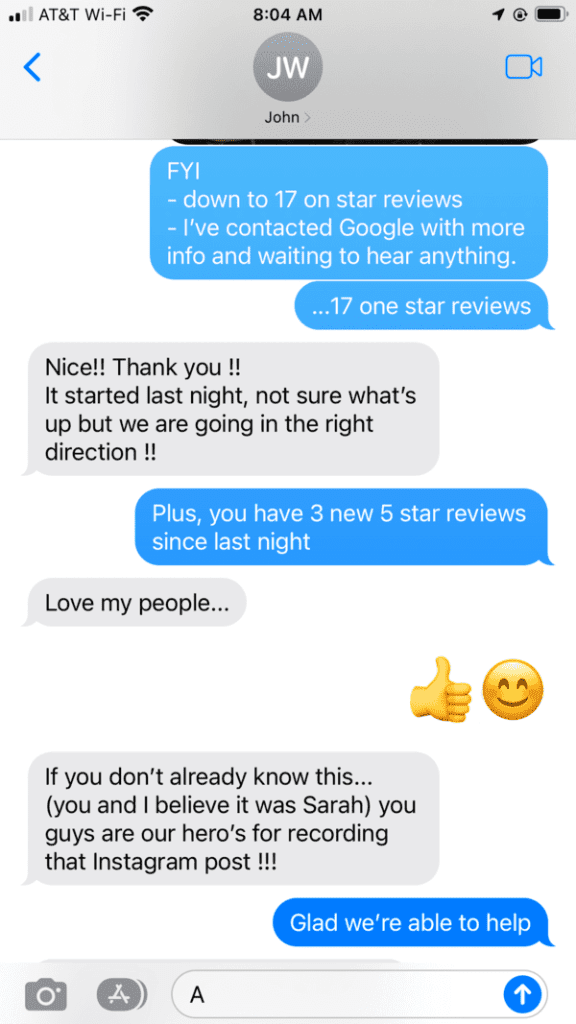 With evidence in hand and having flagged the reviews as inappropriate in Google Business Manager, our next course of action was to get someone at Google to remove the fake reviews.
Knowing that it's very difficult to get in touch with a real human at Google, we wanted to comfort our client without making any promises we couldn't keep. We kept our client informed of what we knew was possible, what we hoped could happen, and what the typical situation turns out like.
We found a forum that seemed a good option and posted about the situation there. A bit later, we had a response from a Google contributor. He didn't have the power to fix our client's scarred reputation, but he could pass the situation along to someone who did.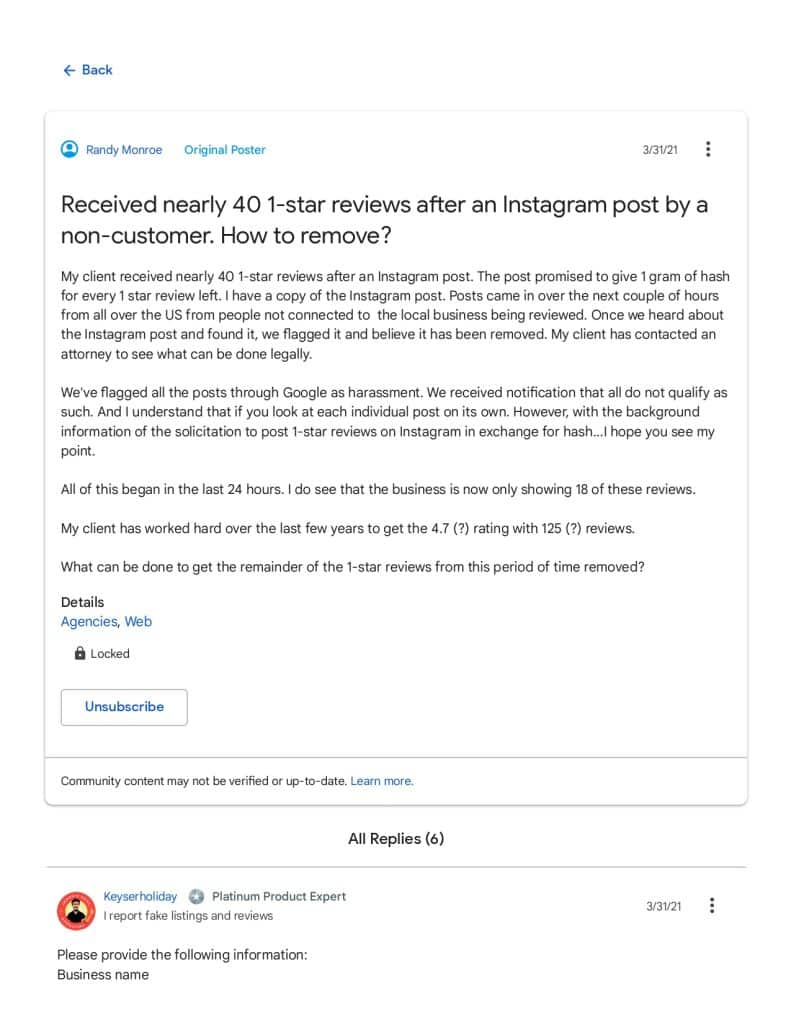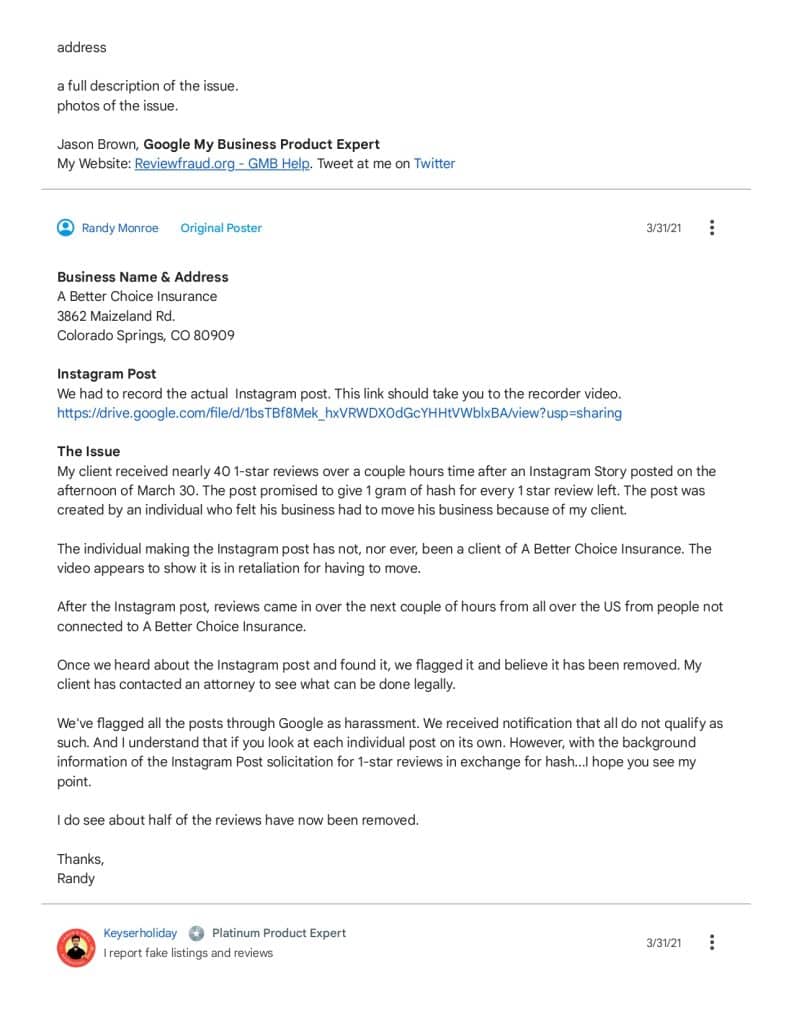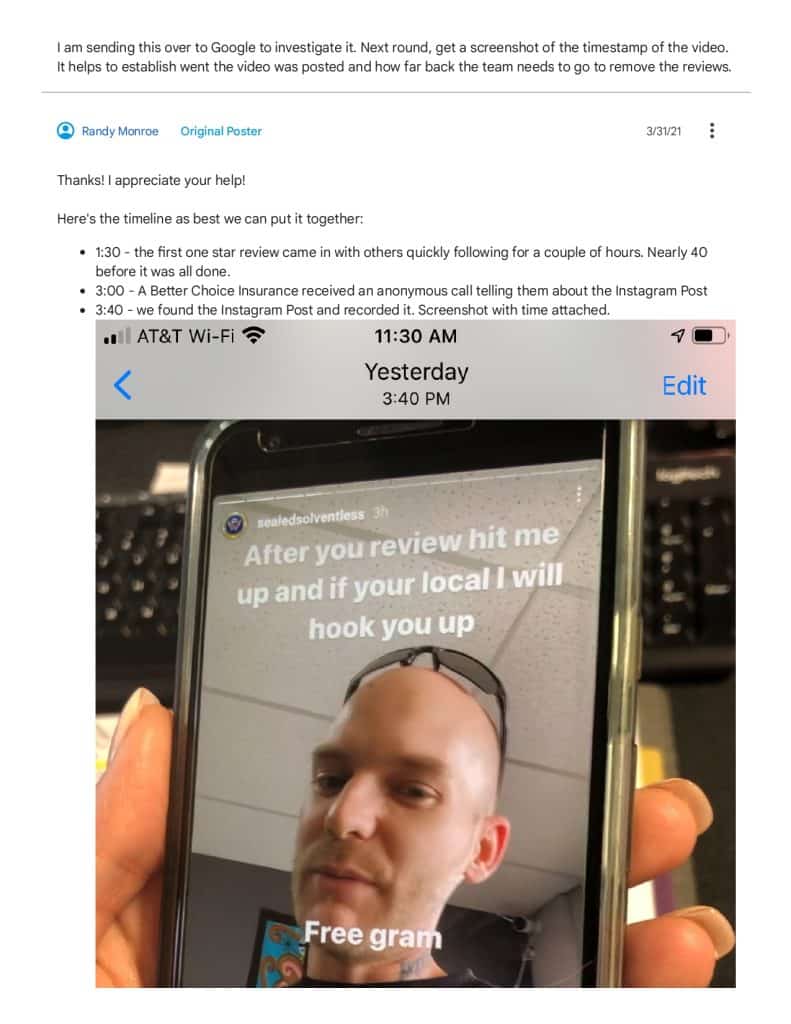 The Resolution
After several sleepless nights and days filled with waiting, responding, scouring the interwebs for possible solutions, and plenty of back and forth with our client to keep him as sane as possible given the situation, we had resolution!
We started getting email after email confirming a review had been removed. The tension melted with each email that came through.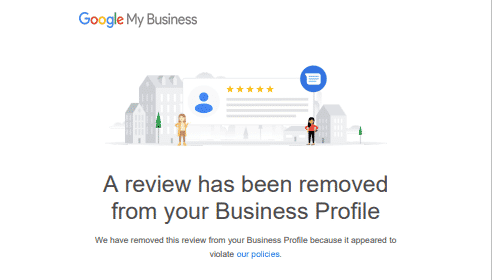 We are glad we were able to help our client resolve this issue and they were too! Now their local SEO efforts will continue improving.
You've taken personal risk in pursuit of your business venture. We understand how tough it is to compete with larger companies and how these kinds of situations can make or break your business and you personally. That's why, if there's something we can do about it, we will do whatever we can. Why? Because we understand the sleepless nights, worries, and fears involved in running your own business. We are one too.
While typical client turnover at web development and SEO agencies is 18 months, our average client has been with us for 6+ years. We'd love to get to meet you. Care to meet over coffee?