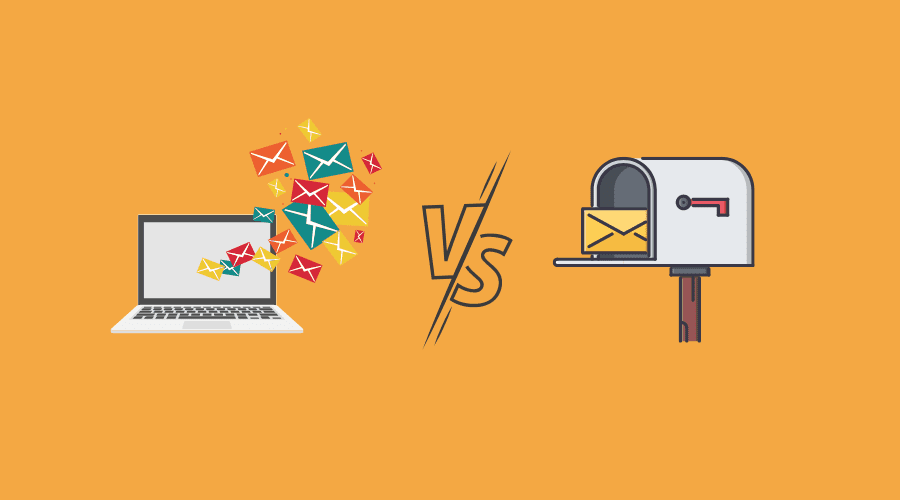 Email vs. Mail Marketing: 7 Benefits of Direct Mailers for Business That Email Can't Beat
Posted Aug 2, 2023 | Updated 2 months ago
In a fast-paced world that's dominated by technology, the accessibility of the Internet, and an overflow of information, are post cards and other mailers even a relevant form of marketing? After all, in this digital age, people are more connected than ever.
The answer is "yes," you can still make a significant impact with a direct mail campaign, particularly as a small business or local organization seeking to connect with customers in the Colorado Springs area. It all comes down to being selective when choosing your recipients; designing compelling and beautiful materials; and scheduling your campaign to connect with customers at the opportune time.
Benefits of Direct Mail Marketing Versus Emailing
Direct mailing has ebbed and flowed in terms of popularity over the years. It's faced fierce competition from digital marketing, such as pay-per-click, email marketing, and social media marketing.
However, for businesses and nonprofits wanting to reach their local customers, it remains one of the most effective marketing methods to date. According to Statista, direct mail volume has increased in the U.S. from 67 million in 2020 to 70 million in 2021, an increase of 4.7 percent. Additionally, in research involving 500 marketers, two-thirds responded that they experienced a good return on investment (ROI) from direct mail campaigns.
That's not to say you should completely abandon your email marketing efforts or other communications strategies. There are simply some aspects of a direct mail campaign that can't be beat.
Here are a few examples:
1. Standing Out Among Competitors
How many emails do you receive in a given day? For many working professionals and business owners, that number is several dozen, even upwards of 100. Now, compare that to how many pieces of physical mail you receive on a daily basis. On top of that, individuals and business owners face a constant deluge of digital and social media marketing. That's why a physical piece of mail stands out and receives more engagement.
According to research from the Data & Marketing Association (DMA), the response rate for direct mail was an average of 9 percent. Utilizing best practices for your campaign—such as personalization, tracking, follow up, and targeted timing—can improve your response rate.
2. Increasing the Likelihood of Making an Impression
Along the same vein, a piece of direct mail has a better chance of making an impression for a prospective or existing customer. The U.S. Post Service (USPS) reports that roughly 53 percent of people in America read their mail; an additional 21 percent of recipients will at least scan it. On the other hand, individuals will habitually comb through their email and delete all but the most important ones without even opening most of them. Since it takes an average of eight touches for small businesses to close a sale, it's important to make the most of them, and tangible mailers can help you do that.
3. Addressing Digital Fatigue
Despite technological advances, the future of direct mail is bright in 2023. In fact, a survey by Edison Mail found that 85 percent of Americans feel stressed out by email. Additionally, according to research by Deloitte Insights, one-third of consumers reported feeling overwhelmed by tech during COVD-19. Suddenly, people were having to work online, order groceries and other necessities online, and communicate with friends and family remotely. In a way, the pandemic demonstrated how important in-person interactions are.
As a result, many people are reverting to physical-based mailers for business marketing communications to give their customers relief from the digital deluge and connect with them in a more traditional, organic way. Plus, according to research from the Data & Marketing Association (DMA), the response rate for direct mail was an average of 9 percent.
4. Incorporating Stunning Visuals
Most mail pieces, such as brochures and postcards, include imagery and other visuals to highlight your offering and brand. When it comes to email vs. mail, high-quality images are typically more eye-catching and compelling in print format. They just don't have quite the same impact when viewed in an email format on a phone or computer.
5. Offering a Physical (and Memorable) Gift
Direct mail seems more intentional and personable. In fact, getting a piece of mail can feel like receiving a gift. Maybe it's because sending and receiving physical letters and postcards has become rarer in the 21st century. Regardless, there's a sense of pleasure derived from the tactile nature of a mail piece, and that can elicit a positive response from your customers. Also, it has a longer lifespan. People tend to keep mail in their home or on their desk at the office for a few days. Or they might hold onto your mailer in their car or purse if it includes a special offer or coupon. This longevity makes mailers more memorable.
6. Experimenting with Versatility
Tactile marketing gives you more freedom to play around and be creative with the presentation in order to connect with customers. With email, you only have one shot via the subject line to intrigue your audience in order for them to click and read the whole email. With direct mail, you can choose different sizes, styles, fonts, and visual elements. You can add handwritten notes or a little drawing. You can even distribute swag and personalized gifts via a mass mailing campaign. As a result, you have expanded options for delighting your recipients and motivating them to engage with your local business or nonprofit.
7. Avoiding an Opt-in Requirement
Finally, direct mail, unlike email, doesn't require that the recipient opts in. The CAN-SPAM Act, which establishes the rules for commercial email, has various guidelines you must follow. With direct mail, you can send out your letter or postcard to anyone on your list and still connect with them.
Additionally, even if the customer no longer lives at that residence or works at that business, your EDDM mailers don't just "bounce" as emails can. Someone else will see the mailer and you have the chance to create an engagement with a new customer.
How to Create an Effective Direct Mail Campaign
In order to properly leverage a more traditional marketing strategy like direct mail alongside your modern methods, you must be thoughtful and intentional. Here are a few tips for developing an effective direct mail campaign:
1. Create or Buy a Mailing List
First, you need a good list of names and addresses for customers and prospects in Colorado Springs. This can come from your own customer database or be a list that you purchase, as long as it includes people who are in need of what you're offering. If your list isn't right, it does matter how great your mail piece or offering is. Segment your database appropriately, so you can send your mailer to the right people or do a programmatic direct mail campaign to specific supporters. If you purchase a list, be as detailed as possible in terms of the demographics you're looking for.
2. Design a Quality Mailer
The next step is designing an appealing and impactful mailer. There aren't a lot of restrictions around what you can send, but it's helpful to confer with a vendor to determine the approximate cost of mailing it out and other useful guidelines. While it might be tempting to add every bit of information you can to the card, keep your design clean and simple. Also, focus on a primary call to action, or what you want the customer to do. Make that clear to them. And, of course, use high-quality, unique imagery that tells your business' story in the best way possible.
3. Personalize Your Product
Always keep your customers top of mind. You're designing the mailer for them, not for you. One misconception surrounding direct mail campaigns is that your mail pieces can't be personalized in the same way as email. The truth is that you can customize the design of your mailing so it includes the name of the recipient or some other unique tidbit about them.
4. Don't Underestimate the Timing
Good timing is imperative for a successful direct mail campaign. You want to make sure mailings are sent close enough together to build recognition in the mind of the recipient without inundating them. You never want your items to start feeling like spam. Research shows that cumulative responses to direct mail campaigns spike after three touches. Then, it reaches a point of diminishing return until the 10th mailing, and then the response rate spikes again. A rule of thumb is to send out a mailing every one to four weeks during a campaign. One caveat is if your service or product coincides with a season, event, holiday or life change. For example, you might send out a postcard advertising weed control and lawn care services in late spring or offering a furnace tune-up in fall.
5. Track Your Campaign and Follow Up
Finally, make sure you're tracking your business's mailers and the campaign they're associated with. You can add a code to remittance envelopes, include a QR code that leads to a specific campaign web page, or encourage people to bring the postcard to your store to get a discount on their next purchase. This will allow you to monitor the success of the campaign and track the response rate. Additionally, follow up on the leads and show appreciation to recipients for their engagement.
Leveraging Direct Mail with Other Marketing Strategies
Even if you're using email marketing and other types of digital strategies for your business or nonprofit in Colorado Springs, there is a benefit to incorporating direct mail as well. To help you make the most of your campaign, join forces with our team at Third Angle. We can design a mailer that is not only tailored to your offerings and audience but also set up to adhere to USPS guidelines to make the process smooth and stress-free for you.