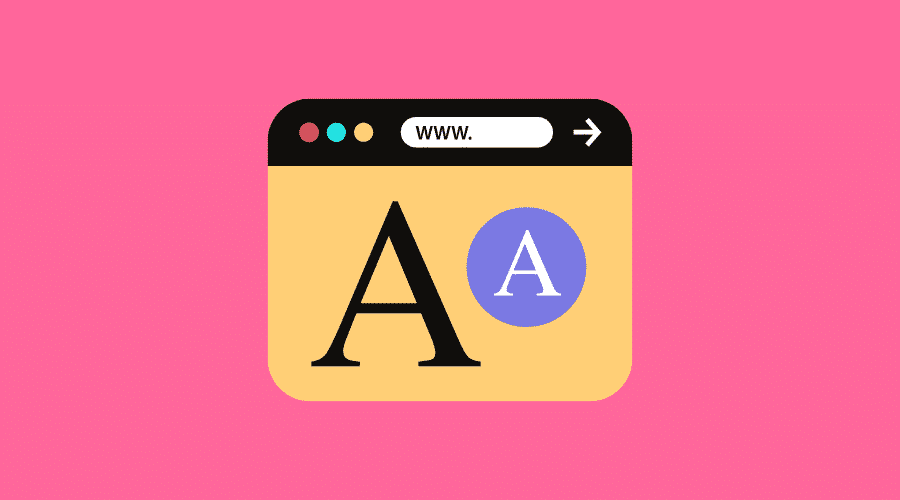 The 10 Best Fonts for Your Website and Blogs
Posted Mar 16, 2022 | Updated 2 years ago
When you think about web design, probably a few main elements come to mind, such as imagery, written content, site maps and other functions.
Another important element—although perhaps less obviously so—is the font you select for your page text, from your headings and display type to multi-paragraph descriptions or blog posts.
Without choosing the right font, or typeface family, your web content can suffer from illegibility that undermines your message, branding and overall professionalism.
What is Font Legibility and Readability?
Fonts—which are the digital files associated with preceding typefaces—come in all shapes and sizes. There are a few features you should look for when selecting fonts for your website and blog posts if you want your content to be clear, legible and readable on smaller devices and potentially low-resolution screens, where the light is coming from behind the letters.
Legibility relies on a number of factors, including style, size and variation. In general, you want a font that includes a large x-height, open counters, and ample kerning. The idea is to ensure you're drawing attention to the text, rather than the font itself. How the font is rendered or used in your website design and content will also impact its readability. For example, even the most web-optimized fonts won't be legible if they're run too small or given a poor color choice.
Since your website is a main source of information for both existing and prospective clients, it's important that your message is communicated clearly so you can effectively market your goods or services and bolster your brand. The fonts you incorporate into your design will either help or hurt that goal.
Best Fonts for Blogs and Online Uses
As you prioritize font legibility while also maintaining your brand image, here are some of the best typefaces to consider for your website and blog posts:
1. Raleway Semi-Bold
Raleway, an elegant sans-serif typeface family created by designer Matt McInerney, is sharp and functional. It is similar to other Grotesque-style fonts, or those produced in the early 19th century. From a single thin-weight font, the Raleway family has expanded to nine different weights. Semi-bold is a good option for web display, and it pairs well with Playfair Display, Barlow, Avenir and Droid Serif.
2. Montserrat Semi-Bold
Montserrat is another sans-serif typeface that manages to look both friendly and professional. It has two sister families—Alternates and Subrayada—and closely resembles the popular Gotham fonts. There are 36 styles in the Montserrat font family. Updated in 2017, this typeface can give your web design a clean, contemporary look, thanks to its geometry and simplicity.
3. Helvetica
Helvetica is a very traditional and beloved sans-serif font that is widely used for both print and digital purposes. It's available on newer versions of Windows, along with Mac and Unix. In general, Helvetica is considered a fairly safe typeface—while it isn't particularly distinctive or creative, you can't necessarily go wrong using it. Plus, because of its tall x-height, it makes text easily readable from a distance.
4. PT Sans
PT (Public Type) fonts are actually rooted in an 18th-century civil type, designed for the Cyrillic alphabet. For that reason, it has a noticeably professional and respectable appearance. However, PT Sans features a more contemporary humanistic design. The font family has eight styles, including four basic styles, two narrow styles and two small-size caption styles, giving you plenty to work with for your brand's website. It pairs well with Droid Sans, Lucida Grande, Poppins, Crimson and PT Serif.
5. Droid Sans
What makes Droid Sans an appealing option is that it was actually designed to be highly legible on the small screens of mobile devices. Yet, it's also a versatile humanist sans serif typeface and optimized for a variety of user interfaces. Droid Sans features tall x-heights, open forms, a sturdy structure and an upright stress for a neutral and inviting appearance.
6. Georgia
Georgia, a graceful, flowing serif typeface designed in the 1990s, was also intended for web use and to be legible when viewed on a low-resolution screen. You can still read text with a Georgia font, even when it's decreased to a small size. This web- and mobile-suitable font family is an elegant choice with a tall x-height. You'll often find it used by online newspapers for their digital content.
7. Pluto Sans
Straightforward and geometric, Pluto Sans is a hardworking and versatile sans-serif typeface. It maintains much of the architecture of the original Pluto family—designed by Hannes von Döhren—but without the quirky curls. However, though not as whimsical or loud as Pluto, Pluto Sans still has a friendly feeling and it's also more fitting for web purposes.
8. Overlock
If you want to get a bit more creative and whimsical without sacrificing too much legibility, consider Overlock. This sans serif typeface family has rounded glyphs, giving it a subtly curved appearance. As a result, it's best not to make the Overlock font too small when you integrate it into your website design. Instead, utilize it in shorter texts or larger titles, and then pair it with a more straightforward and simplistic font.
9. Lato
Lato, named after the Polish word for "summer," was originally designed for a Polish Bank. A few years later, it was added to Google Fonts and it became the third-most popular font. You'll often find it used in blog posts. It manages to express stability and seriousness while still maintaining warmth and friendliness. Consider pairing it with Yellowtail, Merriweather, Firra Sans and Cardo.
10. Merriweather
Similar to other fonts on the list, Merriweather has its roots in computerized application—namely digital documents. Today, it continues to be an exemplary option for on-screen reading. Although semi-condensed, Merriweather remains legible in smaller font sizes, thanks to its heavy serifs and tall x-height. For web design, consider pairing this typeface with Futura PT, Open Sans, Replica, Roboto, or Proxima Nova.
Frequently Asked Questions
Which type of font is easiest to read?
Sans-serif fonts are the easiest on the eyes and thus are most pleasing to the majority of readers. Arial is not the only option you have here. All of the fonts listed above are good options to ensure your content is pleasing to the eye.
What is the best font size for a blog?
The most readable font size, for paragraph text, is 16px (pixels), at a minimum. You can ensure this when you're setting your default website text display options. We also recommend that your headings be 24px to 32px or so, depending on what your heading font style is.
What is the most professional font?
In a word, Helvetica. Because many sans serif fonts are derived from the kerning and shaping practices found in Helvetica, you have more pairing options if you're looking to have a unique look without losing your professional edge.
Paying Attention to Details During Web Design and Development
Choosing the right fonts for your web content and blog posts is an important part of clearly communicating company information. You want your content to be readable on a number of devices while still capturing your brand aesthetic and making your digital platform visually appealing.
Leverage the design expertise of the Third Angle team to help you select suitable fonts across your marketing mediums. our team is experienced in all aspects of typeface selections for printed design needs as well as digital graphic design needs.