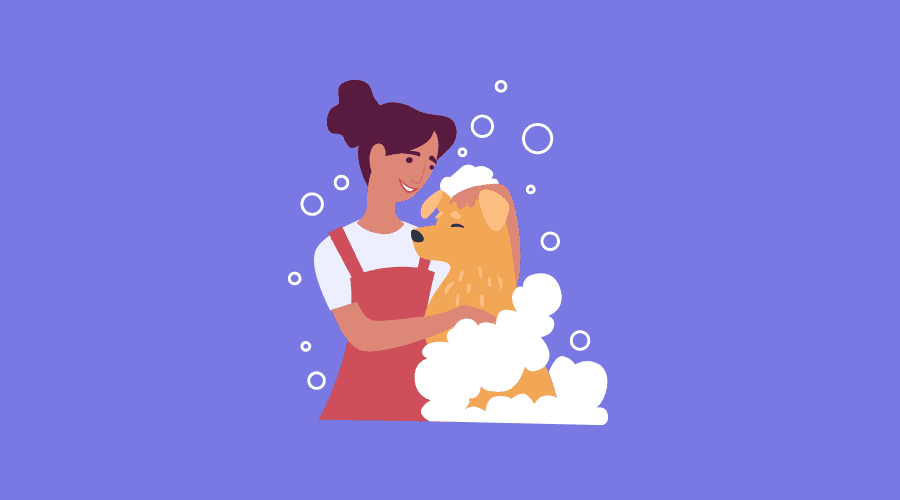 7 Small Dog Grooming Salon Ideas to Delight Your Customers
Posted Jan 26, 2023 | Updated 10 months ago
Excellent customer service is the linchpin of a successful pet grooming business. That means taking good care of not only your canine customers but their devoted humans as well.
The more you can delight your clients and serve their unique needs, the better your reputation and retention will be. You will foster a loyal customer base in your local area that will consistently return to your shop with their business while also creating a public image that appeals to prospective clients in the area.
How Do I Make My Dog Grooming Business Stand Out?
Taking care of your customers goes beyond the pet-grooming services you offer and how you perform them. It's important to think about the experience you provide from start to finish; from the initial scheduling process to following up and staying connected in between appointments, your salon should stand out, in a good way.
Here are a few ideas to help your dog grooming salon stand out among the competition while maintaining a balance of fun and professionalism:
1. Implement Online Scheduling
Online booking is an essential for small businesses operating in the digital age. Customers want the benefit of being able to schedule appointments online, wherever and whenever it is convenient for them. This is true for both new and returning customers.
Once a person is familiar with your salon, your team, and what you offer, being able to simply go online, see what appointments are available, and pick their next appointment slot is the sort of convenience that will make it easier and more appealing to come back time and again.
Make sure to choose an online booking system that is equally compatible with desktops and mobile devices.
2. Connect with Appointment Reminders and Messaging Updates
Another way to serve your customers and stand out is by using email and text reminders and updates. An automated messaging tool allows you to stay in touch with clients before their appointment, so they can share pertinent information regarding their pet or reschedule if they need to.
You can also touch base with them during the appointment and let them know when their dog is ready to be picked up. An added benefit is that sending out reminders ahead of appointments can help reduce the risk (and subsequent costs!) of no-shows.
3. Offer a Robust Loyalty Program
To make your business more resilient, especially during times of recession, you must foster customer loyalty and increase your repeat business. One of the simplest, most effective ways to do this is with a rewards program.
Customers like to be pampered and feel like they're part of something. You can offer discounts to clients who reach a certain number of appointments or offer complimentary products. Create branding around the loyalty program that is clever and unique so that it enhances the whole experience.
Additionally, consider having seasonal promotions or thank-you gifts for your long-term customers who are on your business' emailing list.
4. Send Birthday Cards and Mailers
Another fun way to make your customers feel special and appreciated is by sending out birthday cards to their pets, because who doesn't like receiving a lovely piece of mail?
Have your team members write a little message, sign their name personally, or include a coupon for an upcoming visit. Small things like this contribute positively to a reputation of being thoughtful and detail-oriented, and it will give your customers an incentive to come in for a service to use their coupon. In general, periodically sending out mailers to your contacts can keep you fresh in their mind and keep them up to date with salon news or current promotions.
5. Run Social Media Promotions
Social media campaigns are another way to promote your business, engage your current customers, and attract new ones. You can host a contest and ask people to submit a picture of their pet, and then have other social media followers vote on their favorite entry.
Or you can encourage people to tag a new person—someone not currently following you—on a post, to attract new customers. In this way, you have a consistent theme or campaign around which to create and share content, and it's something fun for your followers to participate in.
Whatever campaign you choose, high-quality graphics and photos are key, along with rules that are simple and easy to follow. Also, you'll need to offer a prize or giveaway that is exciting and valuable enough to incentive participation.
Keep in mind, however, that only about 20 percent of your social media content should be promotional. The rest should be informational or simply enjoyable for your followers.
6. Create Promotional Products
Eye-catching promotional products serve a variety of purposes: They get your name out there, they support brand recognition, and they are fun and useful for your customers.
They can become prizes for giveaways and at promotional events, or used as part of your loyalty program or as birthday gifts. When deciding where to stick your logo, think about items that would be best suited for pet owners and what they're most likely to utilize.
Also, ensure you invest in high-quality promotional items that won't simply end up in the trash. A few ideas include drawstring bags, leashes and collars, dispensers for pet-waste bags, balls and toys, and matching T-shirts for owners and their dogs.
7. Partner with Other Businesses
While your primary responsibility is hygiene and grooming, think of other aspects of pet ownership and then partner with businesses in the community who offer those goods and services and also share your values.
Set out brochures or business cards from local veterinarians in your office. Offer free samples of treats from local suppliers. Develop a referral list of pet sitters and dog walkers in the area.
In return, these businesses and individuals can promote your pet salon by giving referrals or keeping your business cards and other print materials in their office, which will help you broaden your customer base. Most importantly, your customers will see you as a trusted industry leader and a valuable resource.
Promoting and Enhancing Your Small Pet Salon
There are several ways to spruce up your communication and customer service as a pet grooming business in Colorado Springs and elsewhere.
Some amenities—such as online booking and easy, instant messaging—have become essentials for companies to operate competitively. Other perks and promotional ideas depend on your capacity as a small business and what you think will most appeal to your customer base. Our marketing team at Third Angle will make it easier for you to implement new campaigns through our array of mailing, print, web, and local SEO services. If that sounds like your cup of tea, let's chat!