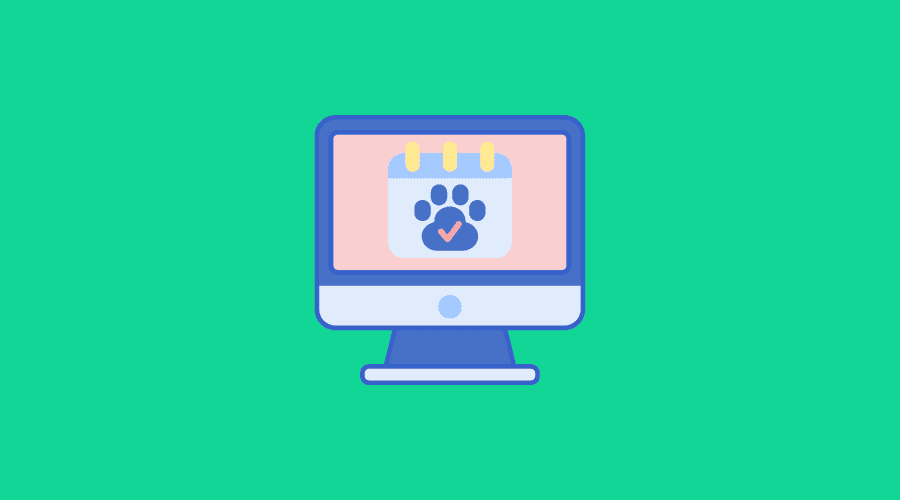 9 Best Pet Groomer Software for Online Bookings
Posted Nov 18, 2022 | Updated 10 months ago
Pet owners have busy lives, caring for their furry friends along with handling an array of other daily tasks.
In this fast-paced environment, many people rely on the efficiency and time-saving convenience of online booking to schedule appointments from their phone or other device. After all, you never know when you might remember to book an appointment, and you want the capability to do it right away before you forget.
Online booking allows them to check your availability and schedule appointments on their own time—wherever and whenever that might be—but it also saves you the time of fielding phone calls or responding to emails to book dog and cat grooming appointments. Appointment selection can be self-service.
Is it Worth Setting Up an Online Booking Tool?
The convenience factor involved in scheduling an appointment online is a huge purchase factor for the modern pet grooming client. These convenient online booking options are not only good for your clientele; you can anticipate seeing top-line and bottom-line revenue increases by leveraging computerized scheduling tools on your pet salon's website.
Check out these appointment scheduling stats compiled by Zippia, to that point:
Annual revenue increases by 27% on average among small businesses offering online appointment scheduling features.
Your ability to set up automated reminders tied directly to these self-service booking tools can reduce the number of appointment no shows by 30%.
When you do have open slots in your schedule still, even day-of, having an online booking tools gives your pet salon the ability to cash-flow on what otherwise would be employee downtime as one in four online appointments are booked for same-day or next-day appointments.
Your customers are thinking about booking an appointment when you are closed, with the most popular time to book online appointments being Sundays from 4:00 to 8:00 p.m.
And finally, consider this: over 50% of Millennials and Gen Xers will switch providers in order to be able to book an appointment online. Take note of this in conjunction with a recent American Pet Products Association study that found that Millennials are the largest segment of pet owners at 32%, with Baby Boomers close behind at 27%, Gen X at 24% and Gen Z at 14%.
As a pet groomer, it's essential to offer this opportunity to existing and potential clients. Fortunately, there are plenty of software options to help you set-up appointment booking features even as a smaller pet salon.
What are the Top Pet Groomer Booking Software Selections?
A top-quality software also helps you manage your schedule, approve and deny requests, and even communicate with your customers to remind them of their appointment or alert them to changes.
If you're looking for an online booking software for your pet grooming business that is compatible with your professional website and other digital tools, here are some of the best options:
1. Gingr
Gingr is a reservation software used by a variety of pet-related businesses, including pet groomers and trainers, pet daycares, and boarders. As an all-in-one-management solution, Gingr allows you to "track appointment details in one place to keep your staff on the same page." 
You also can track and view a client's history, pricing, payments and more, while engaging them through the customer portal. Owners can create profiles on the free Pet Parent Mobile App, which enables them to schedule appointments, select service add-ons, purchase packages, and pay deposits and invoices on their mobile device.
2. Vagaro
Vagaro is another popular dog groomer program that enhances the user experience. Although it is not designed specifically for pet owners, Vagaro offers a powerful platform for managing online bookings, securing payments, tracking customer information, and creating forms and waivers. 
The versatile calendar feature also stays up to date, so clients can see your availability in real time. As an added bonus, you can help your pet grooming business get discovered by new customers via the Vagaro Marketplace.
3. PetLinx
Described as "simple to use, clearly laid out and user-friendly," PetLinx is filled with nice features and benefits that make it appealing to both pet professionals and pet owners. You can select the pet grooming business module, or a combination module if you offer other services, such as boarding and daycare. 
There is a free companion app that is compatible with both Apple and Android products, along with desktop and cloud software. Some other perks of PetLinx are that customers can quickly make online appointments for multiple services. Meanwhile, you can send reminders by email and SMS, as well as record detailed notes on four-legged clients to optimize business operations and provide a top-notch experience.
4. DaySmart Pet
If you want a more complete management software, consider DaySmart Pet software. Not only does this program offer online appointment booking to existing and prospective clients, but it also allows you to automatically sync transactions with QuickBooks Online and take payments. 
You also can automate appointment reminders, which takes one extra thing off your plate and reduces the risk of no-shows. Plus, DaySmart Pet includes a client database and financial reporting tools, among other helpful features for pet groomers to get a dashboard view of their business's performance.
5. Groomsoft
Groomsoft is a cloud-based app that is targeted toward pet grooming businesses, or as they put it, "designed for groomers, by groomers." Just one of their highlighted features is online appointment booking. 
The software gives you complete control to customize which days/times customers can request appointments and then to accept or reject a request. You also can communicate with customers and send out reminders for upcoming appointments via text message.
Additionally, Groomsoft hosts a Pet Groomer Finder, through which pet owners can search for pet groomers online—giving you one more opportunity to be discovered by new clients.
6. Pet Manager
Pet Manager enables customers to book directly through your company website, in addition to making cancellation requests and adding details about their pet or notes about the booking in general. The software also includes a concierge feature, through which customers can check in and check out for their appointment. 
These capabilities free up your and your team's time to focus more on the pets and doing what you love. Additionally, the dashboard gives you a daily overview of in-house occupancy, website bookings, remaining check-ins and check-outs, pick-ups and drop-offs, and other moving pieces.
7. GroomPro
GroomProPOS, powered by Punchey, offers small business owners a "package of modern tools designed specifically for the pet grooming industry." You can connect GroomProPOS software directly to your pet grooming website, and the two-way sync gives customers the capability to schedule their appointments online, which minimizes the administrative work surrounding bookings. 
Another perk of syncing is that client reviews get automatically posted back to your website. You also can help reduce no-shows through email and text reminders that are sent out the evening before an appointment, as well as an infraction count for clients who have a tendency to not show up and may need to be dismissed.
8. Square Appointments
If you're already using Square for your pet grooming company—or considering it—one benefit is the online booking tool, Square Appointments. Simplify scheduling via the mobile app, which is compatible for Android and iOS, to manage appointments on the go. 
Plus, there is a free customer booking website and automated email and SMS reminders with Square Assistant. The software enables you to automatically charge cancellation and no-show fees, if you want, and to help clients book multiple services online and set up recurring appointments. Square Appointments is "made to match your craft," so you can choose the model that best fits your business.
9. GoReminders
As the name implies, GoReminders, while offering online booking capability, puts an emphasis on communicating with customers to help you with efficiency. 
It's a fairly simple and straightforward software that doesn't quite offer the same variety of extra features as some of the others, but that may be exactly what you're looking for to support your pet grooming business.
You'll save time and stress not having to chase down customers and dealing with fewer no-shows, thanks to the software's automated reminders and two-way texting.
Powering Your Pet Grooming Business
Having the right tools and strategies to acquire and retain pet services clientele is essential to the vitality of your grooming company. That includes software that saves you time and allows you to streamline administrative and management tasks so you can better focus on your team, your pet parents, and your furry, four-legged clients. 
Keeping the bases loaded in your marketing approach involves creating convenience for your clients at every stage possible, with the right marketing tools, starting with a high-quality, and affordable website. Our team at Third Angle is here to help you succeed with a strong digital presence, in addition to our wide variety of other business marketing, graphic design, and mailing and print services.