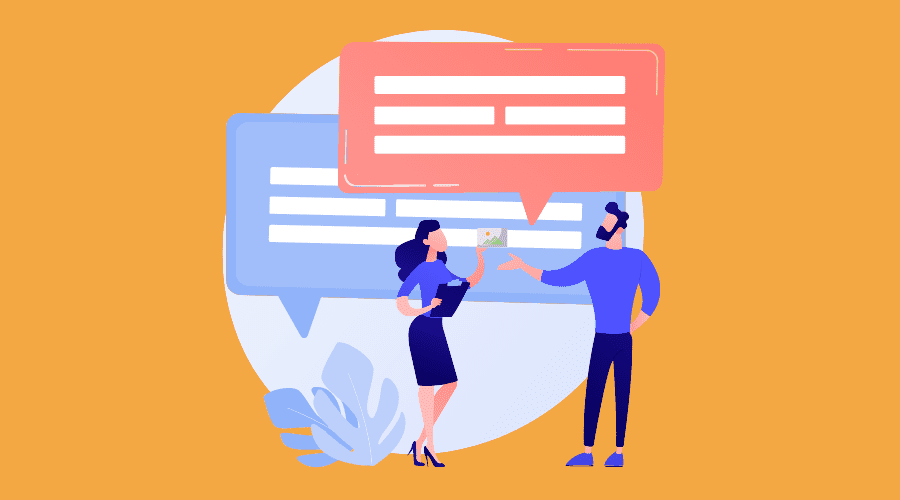 The Ultimate Guide to Custom Business Cards in 2021
Posted Jun 22, 2021 | Updated 2 years ago
Business cards have been around for several centuries in some form or another. With all the newfangled ways of making professional connections and sharing personal information that have cropped up in the digital age, the question is, where do business cards fit in?
While networking online, connecting via LinkedIn, sending emails and other virtual activities possess strong potential to broaden awareness of your Colorado Springs business and communicate with important individuals and organizations, nothing can quite replace the personal touch, convenience and function of business cards—or their value.
Why are Business Cards Still Important?
The importance of business cards can be summed up in a few words: portability, simplicity, and high abilities to personalize. The information you pass on to a prospective client or potential collaborator by exchanging business cards has the capacity to form the foundation for a long-lasting and more meaningful relationship and usually preceded a more meaningful initial interaction from the get go.
Here is a closer look at the benefits of keeping a few physical business cards on hand at all times:
1. Providing a Visual Representation of Your Brand
A business card is often part of the first impression you have on a potential client or business partner. What they see is not merely a small square of layered paper, but a visual representation of your brand, including your logo, your company name and your tagline. Seeing those elements increases the likelihood they will be remembered. Additionally, a clean, professionally designed business card is a much better option than having to scratch down your information quickly on a scrap piece of paper when you unexpectedly find yourself in a promising situation. You also avoid the potential of the recipient misreading your information—i.e., wondering if that number is a 4 or a 9—or typing it into their phone incorrectly.
2. Using a Highly Tactile Marketing Tool
People appreciate having something tangible to interact with, even if they put the information on your business card directly into their phone or a digital database. Having a physical card gives them a backup that is very portable and easy to store, and there's something about seeing and touching an object that strengthens future recall. Plus, when you compare cost vs. benefit, business cards are a relatively inexpensive marketing tool that make a worthwhile investment for your company. Plus, if you leave the back blank, they can include their own notes about following up with you or passing your information along to a connection they have in mind.
3. Encouraging a Personal Connection
Sending an email or a text message is fast and convenient, but when you give someone a business card, you have a moment of making personal, eye-to-eye contact that is more likely to establish a long-lasting professional relationship. Plus, handing them out or leaving them at business events is arguably faster and more convenient than digital means, and you never know when you're going to strike up a promising conversation or meet someone who could be a valuable connection or "know a guy" who needs to speak with you.
What Should be on a Small Business' Business Card?
What to Include
In order to maximize the importance of business cards as a tool for your Colorado Springs company, you have to include the right information. An effective business card design should have:
Your name and job title
Your company name
Your professional phone number
A professional email address and physical address
Your website URL and social media handles
A simple QR code to a personalized offer
A logo and your company message or tagline
What Not to Include
Information that could become outdated (like contact information, inactive social media platforms, or often changed job titles)
Tiny print
Blurry logo or photo
Along with the "what," you also have to consider the "where," or more precisely, where to leave business cards so you get the most bang for your buck. There are the obvious places and events where you should take business cards—such as trade shows, industry conferences, and business meetings in Colorado Springs or out of town—but it doesn't hurt to keep some in a wallet, purse or planner so you're ready to hand one off at after-work happy hour, in an airport lounge, or during community events. And, last but not least, you can drop your business card into one of those jars at a restaurant where they pull a lucky winner every week or month, and maybe you'll get a free lunch or night out in Colorado Springs.
What Type of Business Cards are Best?
While there is basic information that should be featured on a business card—regardless of your company, industry or job title—there is also plenty of room for variety and adding a personal touch to give people a better idea of who you are and what you are about.
First, take a look at just a few of your options, besides your basic white rectangle with logo on one side and contact info on the other: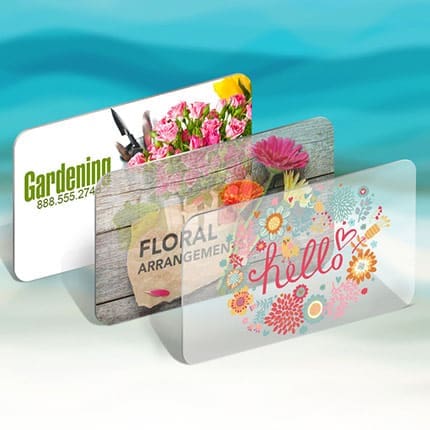 1. Translucent Business Cards
One of the business card trends of 2021 is a translucent card with opaque lettering and images that is sure to catch attention. It's an especially good fit for tech-savvy companies or cutting-edge entrepreneurs that want to reinforce an image of forward-thinking and creativity. This style works best when minimal text is used and the imagery is the focus.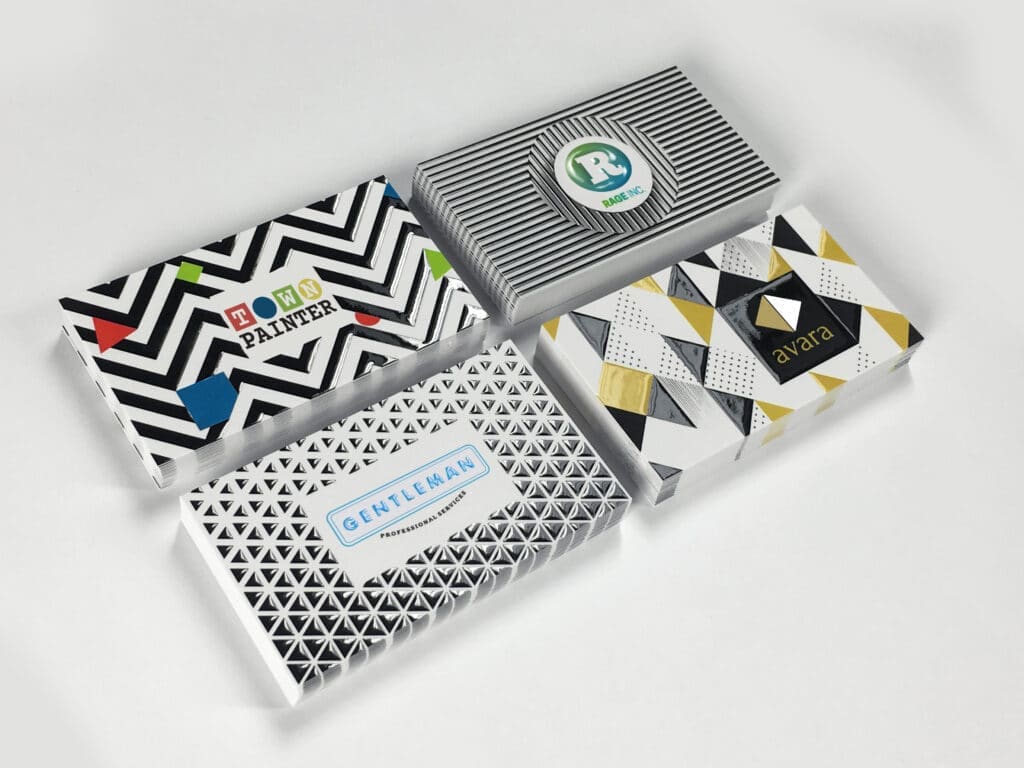 2. 3D Business Cards
Three-dimensional business cards are not really 3D in the traditional sense —since you still want the cards to be convenient and easy to hand out and store.
Rather, think of business cards that have a texture or light embossing to give them a more dimensional, and subsequently striking, look and feel. The added dimension visually and texturally increased the amount of time a person spends examining your business card, running their fingers across the raised sections, and increasing their perception of your brand.
The sophistication of custom embossed business cards makes them especially suitable for flower shops, event venues, wedding planners, or other professionals and organizations associated with an upscale offering and vast local competition to stand out against when you need your business card beholder to feel you are the best option.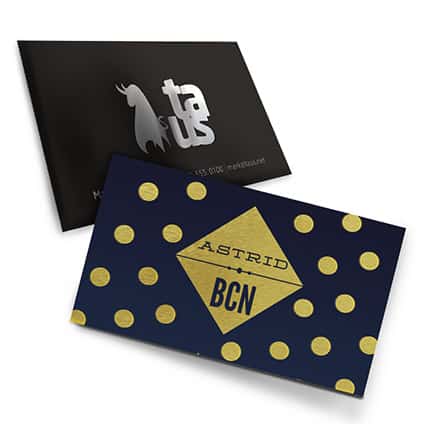 3. Metallic Finish Business Cards
Another way to add visual texture to your business cards is through the use of a metallic finish. You can incorporate the metallic element through your logo, business name or other accent feature. Or you can start with a shiny background that is juxtaposed by solid, nonmetallic colors for your text. We recommend using the metallic foil finish on the logo or larger text features in most cases.
Since a business card with a metallic finish has a high-end, almost gilded appearance, make sure that's an appropriate reflection of your Colorado Springs company. This kind of metallic business card finish is best suited to businesses that deal in automotive, money management, travel, real estate, and as suited to match other business brand personas.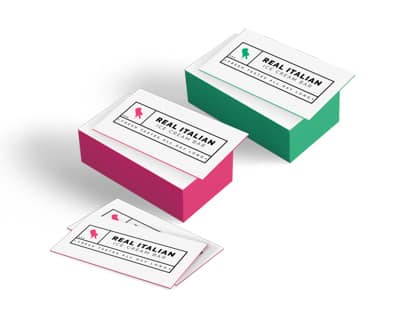 4. Unique or Brand-aligned Cutouts
Custom-cut business cards give you the ability to choose a unique shape that reflects the products or services offered by your Colorado Springs business. For example, you may choose business cards shaped like a cup of coffee for your boutique café or shaped like a house for your realty company. Or you could have the cards simply cut in the shape of your logo. Whether you choose a clever, cute or complex design, the novelty of your cards will leave a strong impression and reinforce your brand image.
One word of caution: custom shaped business cards do not fit inside standard business card holders, so unless you're set on a shaped business card for a tangible reason, consider choosing an alternative that stands out, personifies your brand, AND fits inside standard business card holders.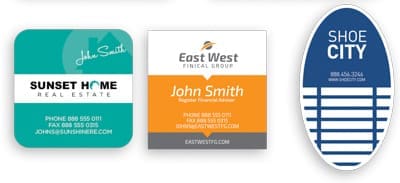 5. Clean, Modern Geometric Shapes
Even if custom-shaped cards seem a bit too eclectic, you are not stuck using the conventional rectangle shape that has become synonymous with business cards. When opting for a custom die cut business card, you can shape the edges of a typical 3.5 by 2 inch rectangle so that perhaps the vertical orientation has a rounded top or the horizontal orientation is an oval that would fit in standard sized business card holders. This way your card stands out as unique, but not because it's frustrating the to card beholder.
---
Other Business Card Considerations
This is just a short list of some types of business cards to consider. With the different types of business cards available for your company, the next step is choosing the right style and look of your product. This process involves evaluating your brand image and what colors, icons and other elements you currently use as part of your visual representation. Also consider how much information you want to include on your card.
What is the best thickness for business cards?
The standard paper weight for most business cards is 14 point, which equates to 0.014 inches in thickness. With this in mind, evaluate any specialty business card options that are significantly thicker or thinner so ensure your card fits in standard business card holders and does not cause frustration for the recipients.
Are double sided business cards a good idea?
To answer this question, answer first another: who are you primarily handing out business cards to, and what is the next action you want the recipient to take? Let's look at some examples:
If you're a realtor, you're handing out business cards to a variety of professionals and prospects, in each case with the intent that the recipient get in touch with you further by phone or email to conduct business. You will likely also be posting your business card on networking boards or display cases, which often allow for only one side to be shown.
If you operate a restaurant, your business cards will often answer questions about the atmosphere, aesthetic, and menu offerings, so that it's easy for your loyal customers to send new customers your way to place an order or come physically eat at your restaurant. It is likely that your business card will be passed along with a verbal recommendation, so both sides are likely to be information laden.
If you operate a medical practice or salon where appointments are booked often, you may most often pass out business cards to new patrons who've booked or completed their first appointment and have scheduled their next appointment. In this scenario, reserving space on one side for writing the appointment information could be more valuable to the recipient than touting more information about your brand on both sides.
There's no right or wrong way to go about it, but you should consider the use cases for and intended next step taken by each business card recipient for your own business.
Should you do glossy or matte business cards?
There is no question that a glossy finish will ensure the colors pop and highlight any contrasts between colors. Further, the glossy finish provides an extra level of durability to keep your business card looking fresh even after it sits in your beholders car for a few weeks.
Matte finish, however, is often more legible because there is not a glare from light, which is especially important when for business cards that are text heavy. On top of that, a glossy finish can sometimes feel cheaper while a matte finish feels a bit more polished.
Are custom shaped business cards a good idea?
A funky and fun custom-shaped business card is perfect if you want to keep things short and sweet, but it may not give you as much space for business information as a traditionally shaped card. On the other hand, can the shape or appearance of the card be used to supplement or substitute aspects of your company that would otherwise have to be communicated via text? These are just a few of the items to consider when selecting a specific style for your new business cards.
Is it good to include a QR code on a business card?
Another business card trend is to prominently feature a QR code that makes it easy and convenient for your new lead or contact to check out your business website or online portfolio. With a QR code, you create a seamless transition from your initial, in-person interaction to a digital connection in the truly omni-channel marketing world small businesses are forces to operate in.
What are some clever places to leave business cards?
Business Centers
Co-Working Spaces
Libraries
Community Announcement Boards
Local Shops
Apartment Leasing Offices
Employment Agencies
Doctor's Offices
Hair & Nail Salons
Malls
Local Restaurants
Breweries
Coffee Shops
Ice Cream Shops
Grocery Stores
Real Estate Offices
Community Colleges
Churches
Gyms / Activity Centers
Child Care Centers
With Past and Current Clients / Customers
Airports
Designing a Business Card for Your Small Business in Colorado Springs
If you'd like to add business cards to your company's marketing toolkit or simply refresh your collection, but you're unsure how they should look or what type of paper to use, professional design services can help.
Our team at Third Angle is well-versed in the hundreds of business card pairings, business card design and production for professionals and companies in the Colorado Front Range. We start the process by making sure we fully understand your needs and ideas, sharing our collection of business cards to spark ideas or solidify the direction you already have in mind, and then design and print the business card that will effectively serve as a proper first impression of your brand.