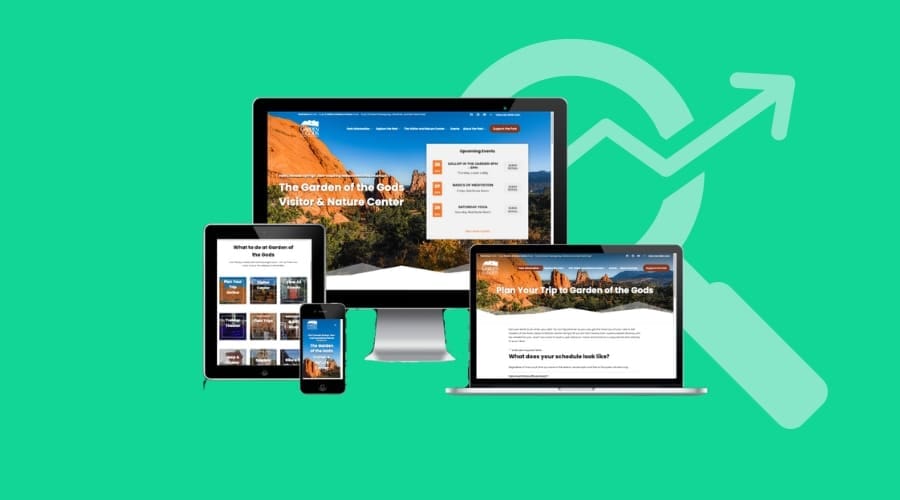 How We Increased The Garden of the Gods Organic Traffic by 1,419.16% Through a Website Redesign
Posted Feb 12, 2023 | Updated 10 months ago
Problem:
When tourists are looking for things to do in Colorado Springs, CO, The Garden of the Gods Visitor & Nature Center is on almost every listicle out there. Unfortunately, their own website was not doing their brand any favors, even with this great footprint in the media and a great local reputation, the numbers didn't lie. Before we began this project, the Garden of the Gods website's average monthly organic traffic was only 4,384. However, with some strategic thinking, and a lot of research, we were able to transform that average to 41,800 in the first 30 days. Here's how we did it.
When The Garden of the Gods team approached Third Angle, they sought to….
Improve the mobile usability of the website for on-the-go researchers.
Streamline the user experience by optimizing page layout and structure.
Upgrade the event management software for visitor experience.
Answer common questions about the park and how to get the most out of a visit.
Create a more accessible-friendly website.
And that is what we achieved for The Garden of the Gods Nature Center.
Process:
Step 1: URL Mapping & Site Hierarchy Adjustments
We identified that the website's sitemap was cluttered and raggedy from years of page build up that had lost relevance due to various reasons. To resolve this, a comprehensive spreadsheet was created so a multi-process sweep could occur to identify pages that needed to be deleted, combined with another, were duplicate, be kept but updated, or be flagged for further review. There was even a running list of pages that were not found at all and needed to be created from scratch.
After determining the final list of pages, the Third Angle Team got to work reconstructing the entire site structure from the ground up. After cutting over 100 content pages, we created the new hierarchical website structure.
This new website structure allowed us to create a straightforward navigation that could be widely understood by Garden of the God's diverse visitor demographic, plus future proof the website's usability, as much as possible, for any new content.
Step 2: Content Creation, Updates and Population
After the structure of the website was determined we began the collaborative process of reviewing, analyzing, and updating all of the existing content in addition to writing new content. This process was, by far, the longest part of the process – it always is 😉 – but by taking the deep dive into their content we were able to elevate their messaging to better reflect their true nature as an award winning tourist destination in the heart of Colorado Springs.
A large majority of our content management efforts was invested into the four main focus areas that help to generate funds for this non-profit organization.
General Park Information – We enhanced the website's existing park information by performing additional SEO research to find additional top-level questions that were searched online.
One neat feature we added was the Plan Your Trip page, which is a simple tool for visitors to use by entering how long they have and what they are looking to do then the form will provide various activities related to their inputs! It's been a great tool for them so far, Jan. 2023, with over 90,000 entries since its launch in July, 2022. And holds strong as their #2 visited page.
Explore the Park – From various guided vehicle tours, rock climbing, hiking trails, and even horseback riding trail information. The goal for this section was to showcase how many activities there are to do. The content in this section was worded specifically to be very action oriented and fun.
Another addition we identified for a few of the guided tours, like the jeep tours, was to link directly to their partner's booking page to help reduce friction in the customer's journey and drive conversions.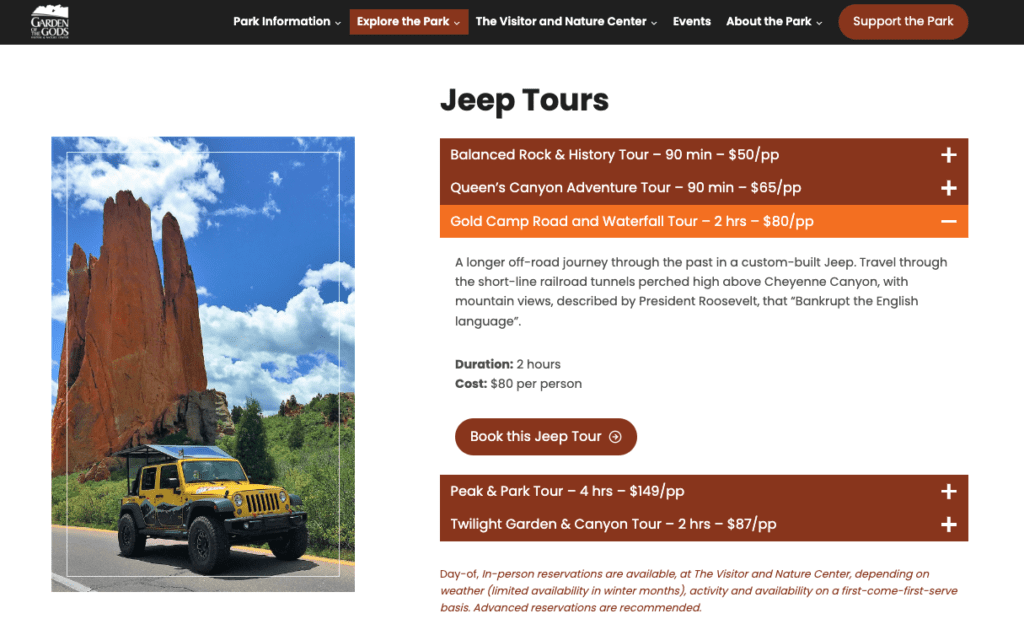 The Visitor and Nature Center – previous information for the center itself was scattered so the Third Angle team gathered relevant information for the Garden of the Gods team to review. We also did additional historical research to add little details to the content.
One neat highlight of this section is the Theiophytalia Kerri Dinosaur page because the story behind "Theo" is one that most don't know but is a fun and fascinating one that takes place right at the park itself.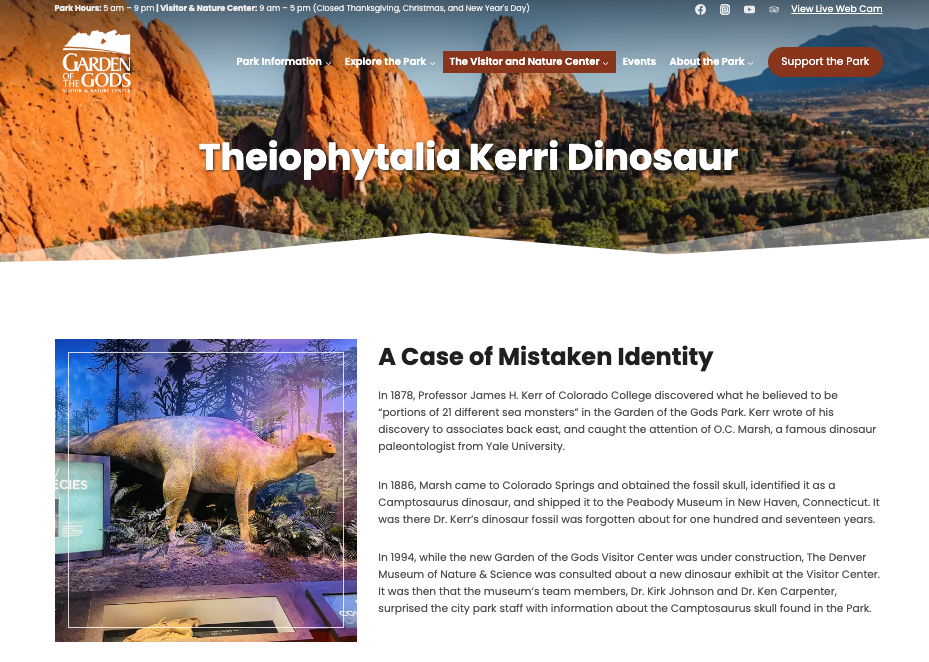 Step 3: On-Page Technical SEO Implementation
In addition to optimizing their content and messaging, we complete on-page technical search engine optimization. This began by performing expensive keyword research to identify keywords and phrases (long-tail keywords) that needed to be included on the website. Then pairing those keywords with the appropriate page so every page had a primary keyword, 2-5 supporting keywords, then writing out meta titles & descriptions for each one. While this work is tedious, it is essential in creating a solid organic search presence online.
Step 4: Website Redesign Refinement
Beyond adjusting the content and messaging the Garden of the Gods website needed a design overhaul. Their website was looking outdated compared to other local attractions and was not showcasing the real beauty of the park. Even though we weren't rebranding them, by utilizing our branding discovery process, the team at Third Angle refined the goal for the visual identity and set to work incorporating the messaging and key website elements into a new and improved visual experience that would draw website visitors in, just like the natural rock formations at the Garden of the Gods park do.
The theme we ended up creating for The Garden of the Gods Visitor & Nature Center is a relaxed, modern aesthetic that plays off straight lines and organic imagery that mimics the style of their Visitor & Nature Center. We went with a near monochromatic color palette only using various tints and shades of their signature red-orange along with dark to light neutral grays.
The important aspect of the design was we wanted to let the images do the talking, which are nearly all done by local photographers.
Website Redesign Outcomes
BEFORE AND AFTER PHOTOS
AFTER

BEFORE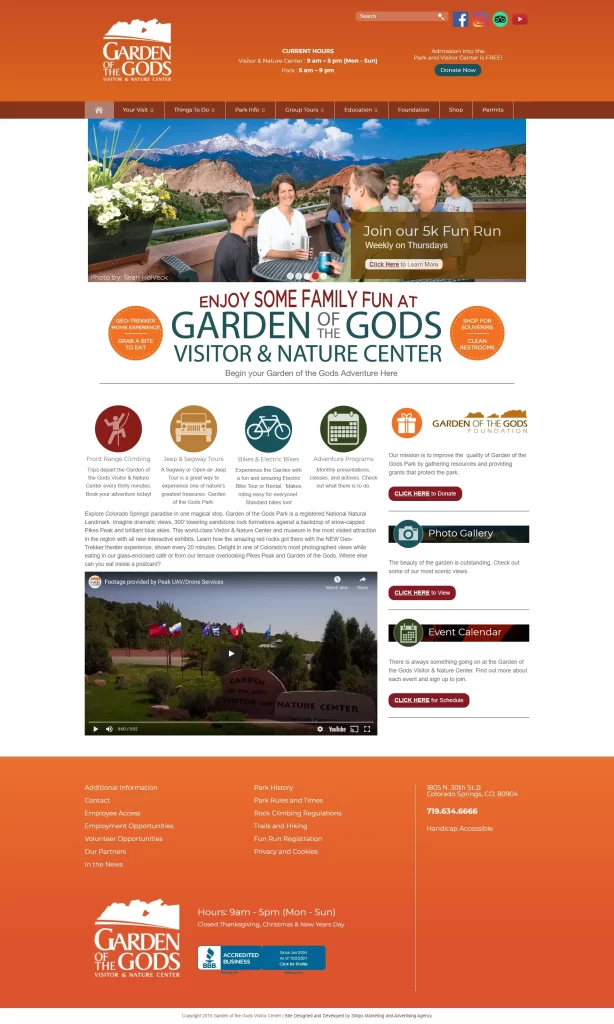 Website Performance Metrics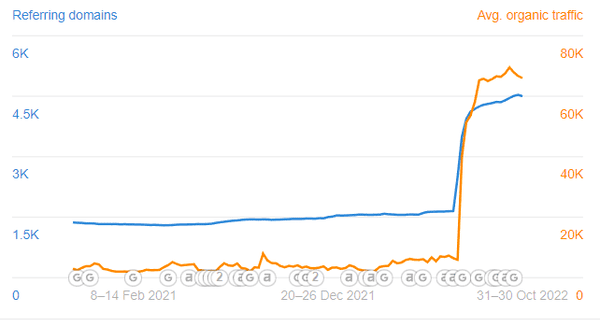 Third Angle Was able to increased website health score by 185% from a health score of 65 out of 100 to a website health score of 90 out of 100.
Plus, Third Angle was able to increase the average monthly organic traffic from 4,384 to 66,600 after 6 months for a total increase of 1,419.16% in just the first 6 months!
---
Within 30 Days, The Garden of the Gods saw:
---
Avg. Monthly Organic Search Traffic:
41,800 (+8500 ranking keywords)
153 keywords rank #1
108 New KW's rank in top 10 (page 1)
1,326 New ranking keywords (between 1 – 100)
Backlinks: +16,000 (+3,000 referring domains)
Within 60 Days, The Garden of the Gods saw:
---
199 keywords rank #1
391 New KW's rank in top 10 (page 1)
5,912 New ranking keywords (between 1 – 100)
Within 90 Days, The Garden of the Gods saw:
---
205 keywords rank #1
16 New KW's rank in top 10 (page 1)
1,250 New ranking keywords (between 1 – 100)
After 6 Months, The Garden of the Gods saw:
---
Avg. Monthly Organic Search Traffic:
66,600 (+23,400 ranking keywords)
264 keywords rank #1
432 New KW's rank in top 10 (page 1)
6,699 New ranking keywords (between 1 – 100)
Backlinks: +21,300 (+4,000 referring domains)
---
Redesign Your Nonprofit's Website with Third Angle
A high performing website is one of your most valuable marketing assets, and finding ways to enhance the user experience on your website over time will continue to serve your organization's goals for years to come.
Whether you're just starting the process of planning your website refresh or you're looking for quotes to present to your nonprofit's board of directors, reach out to our team at Third Angle.