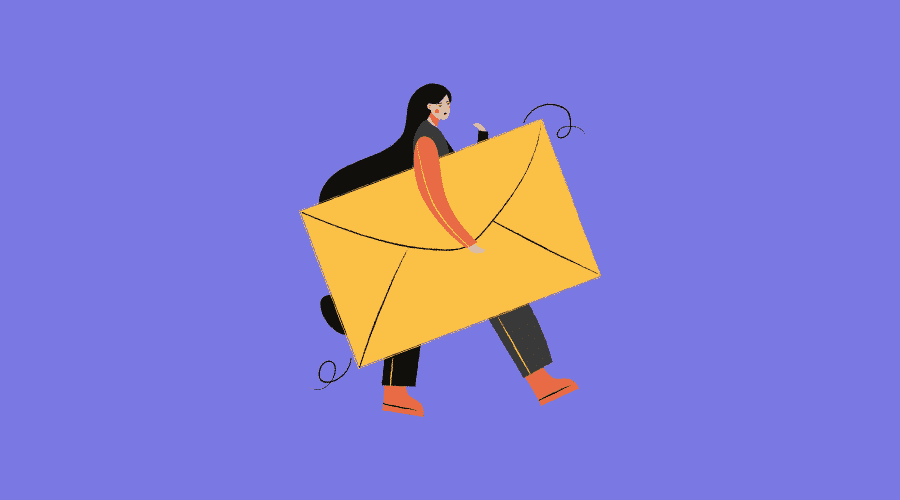 Email Marketing Best Practices for Small and Mid-size Businesses
Posted Apr 14, 2022 | Updated 1 year ago
With the existence of social media and other digital communication channels, small and mid-size businesses in Colorado Springs have a growing pool of options for sharing updates and information directly with their clientele.
Among these, email marketing remains one of the most powerful tools for connecting with current and prospective customers—as long as you embrace a focused approach and work to grow your list of subscribers through high-quality content, outreach and integrating best practices.
The average person checks their email at least a dozen times during the day, which means you have ample opportunity to reach them with email marketing campaigns featuring new services and products, special deals and promotions, and other business updates.
Average Email Open Rates and Click Through Rates
According to data aggregated by CampaignMonitor, businesses should be aiming for open rates around 20% and click rates around 2-3% whereas ConstantContact reports higher average open rates of 29% and lower average click rates of 1.3% and MailChimp reports average open rates of 23% and average click rates closer to 3%.
In summary, the numbers that would have earned you a good grounding if achieved in grade-school are actually really good when it comes to your email marketing efforts!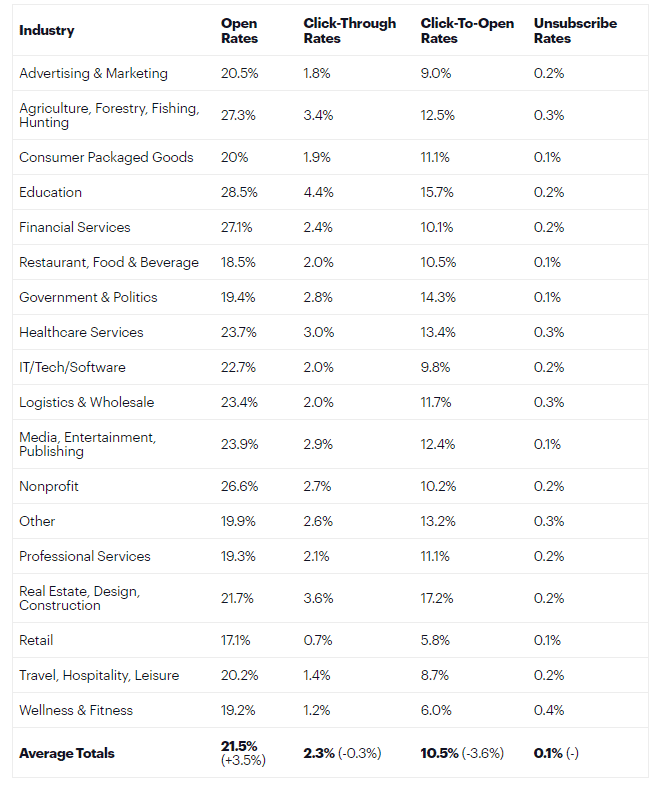 What are the Best Practices for Email Marketing?
The success of small business email marketing relies both on the content you're sharing and how you present it. You want people to engage with your content—improving your overall open and click-through rate—and to walk away from each email interaction feeling positively about your brand.
To help you get the most out of your email marketing efforts, here are some of the best practices for small and mid-size businesses:
1. Incorporate Strong Visuals
The quickest way to lose your audience's attention is with a wall of text. Your emails should include photographs, infographics and other imagery. This is aesthetically appealing and also enables you to be more efficient and concise with your text. You can use free graphic generation tools, like Canva.com, and image compression tools to maximize your email marketing efforts. For email images, one best practice is ensuring the images are conducive to a smaller screen, since many people will be opening your email on their phone or tablet.
2. Use Consistent Styles
You want your email campaigns to be recognizable and feel familiar, while also capturing your brand image. Pick particular fonts and styles for headlines, taglines, body text and buttons, and then stick with them from email to email. While you may not be able to use the exact font of your brand depending on the email marketing software you're deploying, aim to find a default option that is as close as possible.
3. Personalize Your Emails to Increase Email Open Rates
In 2022, the average open rate for emails is just above 20% according to data aggregated by Campaign Monitor. While that average has dropped significantly over the years in general, you can still improve your open rate success by personalizing your content.
That starts by sending out highly relevant and meaningful content to your subscribers. Send emails crafted for humans, not just to say you're "doing marketing". Further, use segmentation to target certain individuals and types of subscribers on your email list with certain campaigns. Merge tags also allow you to insert dynamic content—such as a person's name or title—into the body of your email and subject line depending on the email marketing software you're using.
4. Comply With the CAN-SPAM Act to Increase Email Deliverability
A concern with email marketing is that your content will end up in someone's spam folder and they'll never see it. One of the best ways to counteract this issue is to comply with the CAN-SPAM Act, which was established to protect people from receiving unsolicited emails. For example, you want to only email people who have subscribed to your list and you should make it simple for people to unsubscribe.
Other Ways to Improve Email Deliverability
You can improve your email deliverability metrics, which should remain above 95% and not dip below 80% as the absolute bare minimum, by building your sender's reputation. Here are some ways to do that:
Utilize an email service provider / domain service provider that lists SPF and DKIM records. For example, here's how GoDaddy automatically does this.
Utilizing Double Opt-In Features for new subscribers from gated resources
Removing unengaged contacts from your email list regularly. Less is more.
Avoiding black hat digital marketing tactics (that often lead to spam risks that impact your email deliverability).
Sending emails consistently and at a steady pace, without sudden increases in volume that may be flagged as spam.
5. Review Your Results and Try Again
Mass emailing platforms will provide you with information on the success of your email marketing campaign, including the open rate, click-through rate and which links received the most engagement. Review this data after each campaign to see where you might make adjustments and track your engagement over the long term. In general, email marketing for small and mid-size businesses involves some trial-and-error as you test to see what is most effective with your particular demographics.
Email Marketing Ideas for Small Business
While presentation is important for conveying your brand personality and effectively connecting with clients, successful email marketing equally relies on the caliber of your content. You want the information you're sharing to be pertinent and valuable to your customers.
Here are a few ideas for the content to incorporate into your email marketing strategy:
1. Timely and Seasonal Services and Products
If you're changing up your services or products based on the season or to introduce something new to your clients, share this information in your emails. Maybe you want to highlight your landscaping services in the spring or your new fall apparel as summer comes to a close. Stay attentive to your customer's needs as they change throughout the year.
2. Promotions and Special Offers
Promotions contribute to increasing your brand awareness and rapport with your customers. They're also a way to induce prospective clients to give your business a try. Consider leveraging personalization techniques with specific campaigns centered on special offers or deals that would appeal to certain segments of your subscribers.
3. Upcoming Events
If you have any upcoming events at your small business or organization—such as a new exhibit, a sale or an open house—invite people through your email marketing. Or if you're doing a fundraiser in conjunction with a community or school group, this is also worthwhile information to share.
4. Industry Resources and Tips
Customers also can receive value from highly educational content and tips related to your particular industry. For example, as a contractor, you might want to share content about weather-proofing your house or when to DIY and when to call a professional. As a grocery store or community co-op, you could send out recipes or tips for increasing the lifespan of produce. As a landscape design company, you could give insight on dealing with pests or insects that plague your region or the best native plants to use. As a locally owned coffee shop or restaurant, you may educate about where you source your ingredients from and who you partner with in the local community. Sharing your investment and expertise in this way boosts your brand image and gives people the sense that they can trust you.
Pairing Your Email Marketing with Other Strategies
Email marketing continues to be a valuable way to connect with and engage your current and prospective clients. One of its great benefits is that it can build trust with your business, increases your brand awareness, and drives people to your business website to make contact or a purchase. Our team at Third Angle can help ensure you're putting your best foot forward with a professionally designed website that will compliment your email marketing efforts to improve revenues.