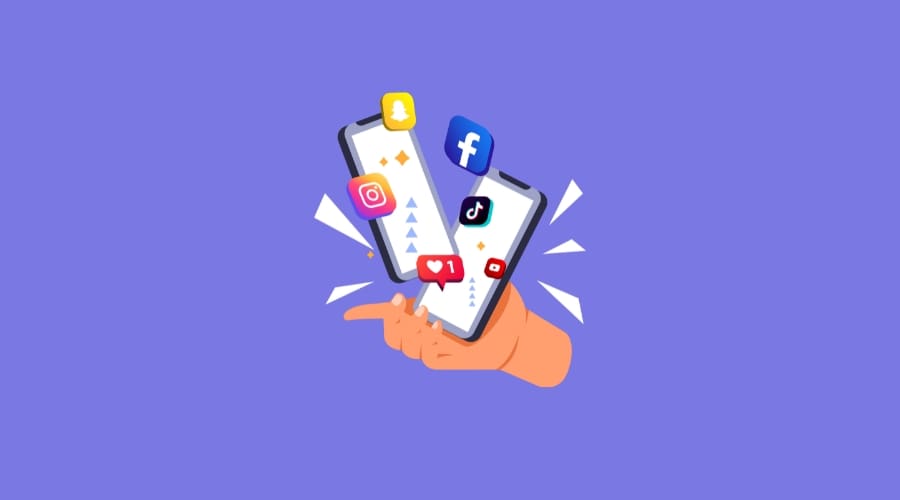 The Ultimate Guide to Social Media for Pet Businesses
Posted Apr 19, 2023 | Updated 2 months ago
Posting videos of your staff grooming and pampering puppies. Spreading the word about an upcoming promotion. Getting new and potential customers to participate in a cute pet photo contest with a fun prize.
These are a few of the ways you can use social media to expand the digital presence of your pet care company and cultivate new business.
Social media can be a cost-effective and impactful way to market your company, especially when you have a plethora of cute camera-ready subjects at your disposal. However, social media is also a constantly evolving and slightly ambiguous digital world that can elude business owners and supervisors who are already dealing with multiple other tasks on a daily basis.
Fortunately, even a small investment of time to run a business page on Facebook or an Instagram account can pay off significantly if you have a clear objective with your social media marketing and curate content that connects with your unique audience.
What is the Best Social Media Platform for Pet Businesses?
There are some specific social networking sites tailored very specifically toward pet owners and their four-legged friends, such as Petzbe. However, as a pet services business, you should work to establish a strong presence on a couple of the main social media platforms.
Facebook and Instagram are the best place to start. With Facebook, you'll reach an older demographic and be able to connect easily with other companies in the community. Instagram is more popular with the younger generations. Since Facebook owns Instagram, Meta Business makes it simple and convenient to create, schedule and manage content on both platforms. Plus, both are free to use unless you choose to invest in ads or boosting posts to expand targeted reach.
A few others to consider include YouTube, Twitter, LinkedIn and TikTok. It simply depends on how often you want to engage current and prospective customers and what type of content will be most compelling to generate new business. On YouTube, you can post longer videos that highlight your work, tutorials geared toward pet owners, or other entertaining and educational content.
With Twitter and LinkedIn, you can share interesting articles, as well as your unique insights and opinions, establishing your pet care company as an industry leader. Like Instagram, TikTok is perceived as a more personal and casual way to connect virtually with customers.
Finally, although it doesn't technically fall under social media, Google My Business is another important social network that your small business should be investing time in.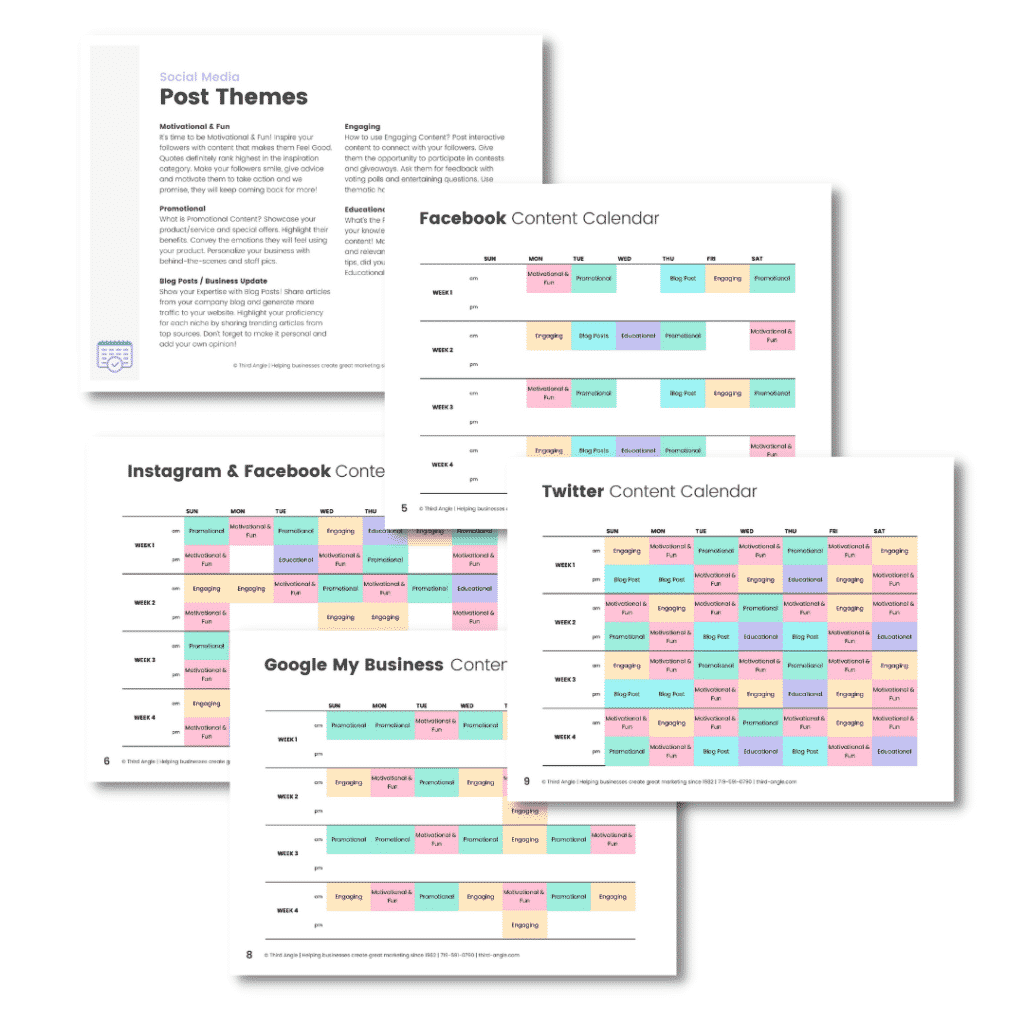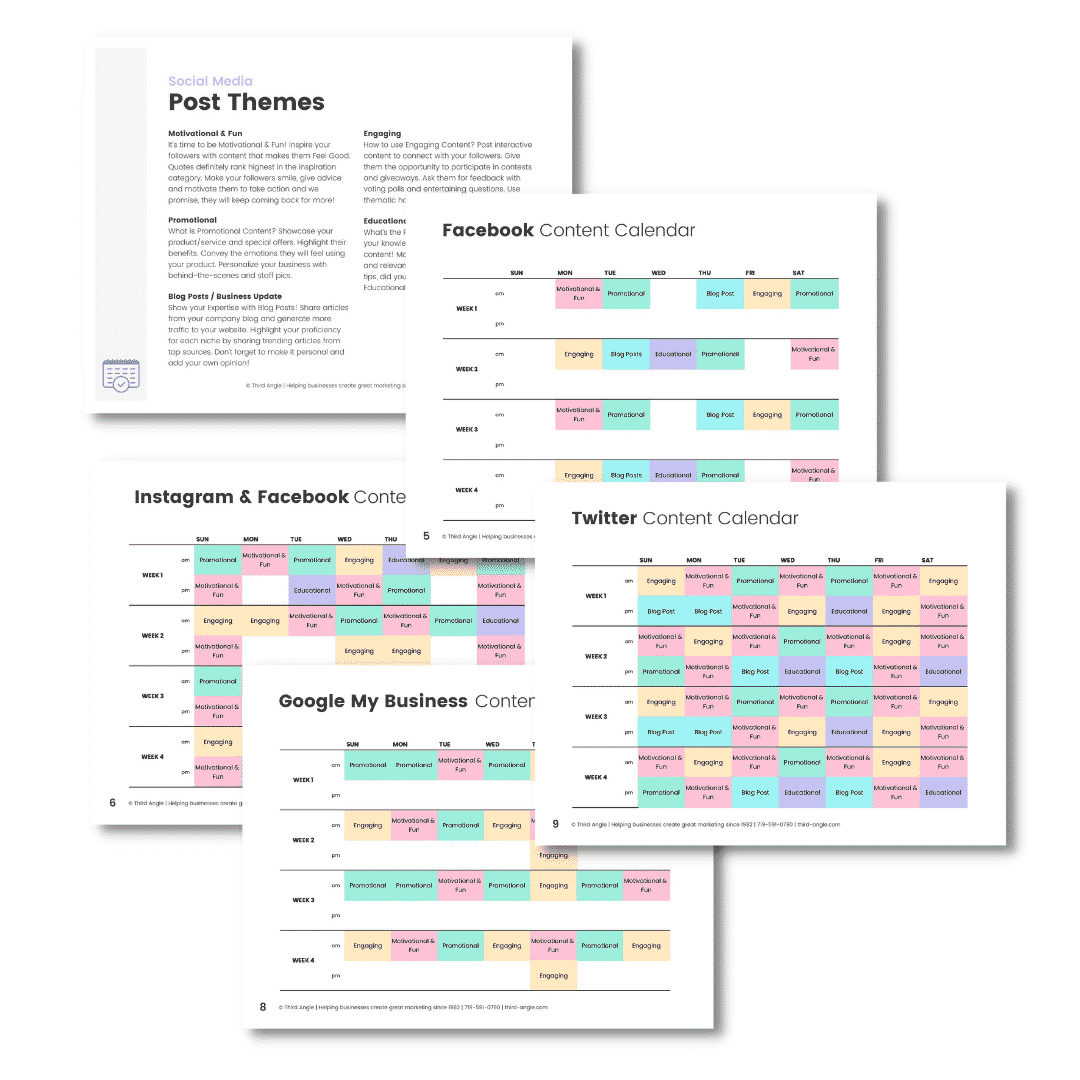 Download these sample content calendars to help you get the most out of your next social media campaign for your business.
What Should Pet Care Businesses Share on Social Media?
As you work on developing a social media strategy for your pet care business, the first step is determining your goals for investing in this type of marketing. Those goals will shape the type of content you are creating and how you're sharing it. Additionally, each social media platform is best suited to a slightly different type of content.
Here are some of the main reasons to invest in social media for your business:
Boosting the online visibility of your company, bringing awareness to your services, and driving customers to your website.
Establishing credibility by demonstrating your professional knowledge, building connections, and answering questions.
Providing customers with company information, including your location, business hours, description of services, contact information, job openings and more.
Sharing information about promotions, sales and other campaigns.
Being a valuable resource for pet owners in the Colorado Springs area by sharing articles, tutorials, answers to frequently asked questions, and more.
Collaborating with other businesses in Colorado Springs who offer pet-related services, including vets, pet sitters, pet supply stores, or even dining establishments that allow pets.
Cultivating goodwill and community among followers by giving them a virtual environment for networking, getting useful insights, and adoring one another's animal companions.
Your social media marketing strategy may encapsulate one or all of these goals. Depending on your brand's main intentions, you can select which platforms are the best fit and start creating content with those goals in mind.
How Often Should You Post on Social Media Accounts?
There is no right or wrong answer to how often you should be posting on the social media accounts for your pet care business in Colorado Springs, but there are some best practices.
First of all, consistency is key. So, whether you choose to post on your Facebook, Instagram and Twitter accounts once per day or once per week, try to stick to a fairly consistent schedule.
Keep in mind that cultivating high-value content takes time, so factor that into your decision-making process. Putting together one or two carefully curated and substantive posts that compel likes, comments, and clicks is more worthwhile than trying to post every day with lower-quality content. And you don't want to take on more than you can sustain. Successfully maintaining Facebook and Instagram alone can take 10 to 15 hours per week, and adding extra social media accounts will only increase the necessary time commitment of a staff person.
With YouTube and LinkedIn, you don't need to worry about posting as frequently. You might consider doing a once-per-month series for your YouTube channel that highlights a different service you offer; gives followers a look into your day-to-day operations; or provides them an interesting tidbit about pet care. LinkedIn is a good venue for sharing articles, posting job openings, and staying in touch with the business community in your region.
Pet Care Instagram and Facebook Tips
Since Facebook and Instagram are likely the go-to for small businesses, that's where you should plan to invest the most time—at least to start. Here are a few tips for building an interesting, effective account:
1. Use High-Quality Images and Videos
Instagram in particular is all about the visuals. But even on Facebook, an interesting, engaging, and quality photo, graphic or video will make people stop and pay attention. That doesn't mean you have to always use professional photography, but make sure your content is unique and interesting. Plus, tools like Canva make it easy for anyone to design creative, eye-catching content.
2. Track Your Analytics
Put aside time every so often to review the analytics for your social media accounts, which are provided by the platforms themselves. Take stock of what content is performing the best; what days and times see the most engagement; what content is helping you achieve your goals, in terms of website clicks or driving traffic to your store; and other useful data. Use that information to adapt your strategy or try new tactics.
3. Be Selective with Sponsoring and Advertising
Not every post you put on Facebook or Instagram needs to be boosted or turned into an ad. Most of the time, you can post for free and get the outcomes you desire. Every so often, you may want to add a little financial juice to your post, particularly if it includes a meaningful call to action, such as directing users to a page on your website, announcing an in-store promotion, or getting people to participate in a survey or some other type of engagement that can help you build your email list.
4. Have Fun
People use social media to look up information about a business, such as their hours, what services and products they offer, or a link to online booking. However, a lot of people also turn to social media for a break from the pressures of the real world. To that end, it's perfectly acceptable to have fun on your Instagram and Facebook accounts. Make an entertaining pet grooming reel, include jokes and use puns, and post adorable photos of pets with a creative caption. Users will appreciate the authenticity and humor and feel even more connected to your pet care business if you appear to take joy in what you do.
Improving Your Social Media Strategy
Whether you're new to using social media for professional purposes or you simply need an update on the best practices in 2023, Third Angle can help. Our team understands how social media can fit into your larger digital marketing strategy and complement your own advertising efforts. We can work with your pet care business in Colorado Springs to develop, maintain and grow your social media success.